This Week's Sky at a Glance, February 11 – 19: Times Of Nation
FRIDAY, FEBRUARY 11
■ This evening, the waxing gibbous Moon shines close to the vertical midline of the Winter Hexagon: the line from brilliant Sirius in the southeast up to Capella high overhead.
To trace out the whole enormous Hexagon, start with Sirius at its bottom. Going clockwise from there, swing up through Procyon, then Pollux and Castor, then Menkalinan and Capella overhead, down to Aldebaran, then to Rigel in Orion's foot, and back to Sirius. Betelgeuse shines inside the Hexagon, far off center.
The "Hexagon" is somewhat distended. But it's fairly symmetic around that long vertical axis, Capella to Sirius.
SATURDAY, FEBRUARY 12
■ Now the Moon shines in Gemini. Look for Castor and Pollux lower left of it early after dark, as shown below.
This whole pattern rotates clockwise as it moves across the sky through the night. So Castor and Pollux shine directly left of the Moon later in the evening, then above the Moon in the early hours of Sunday morning.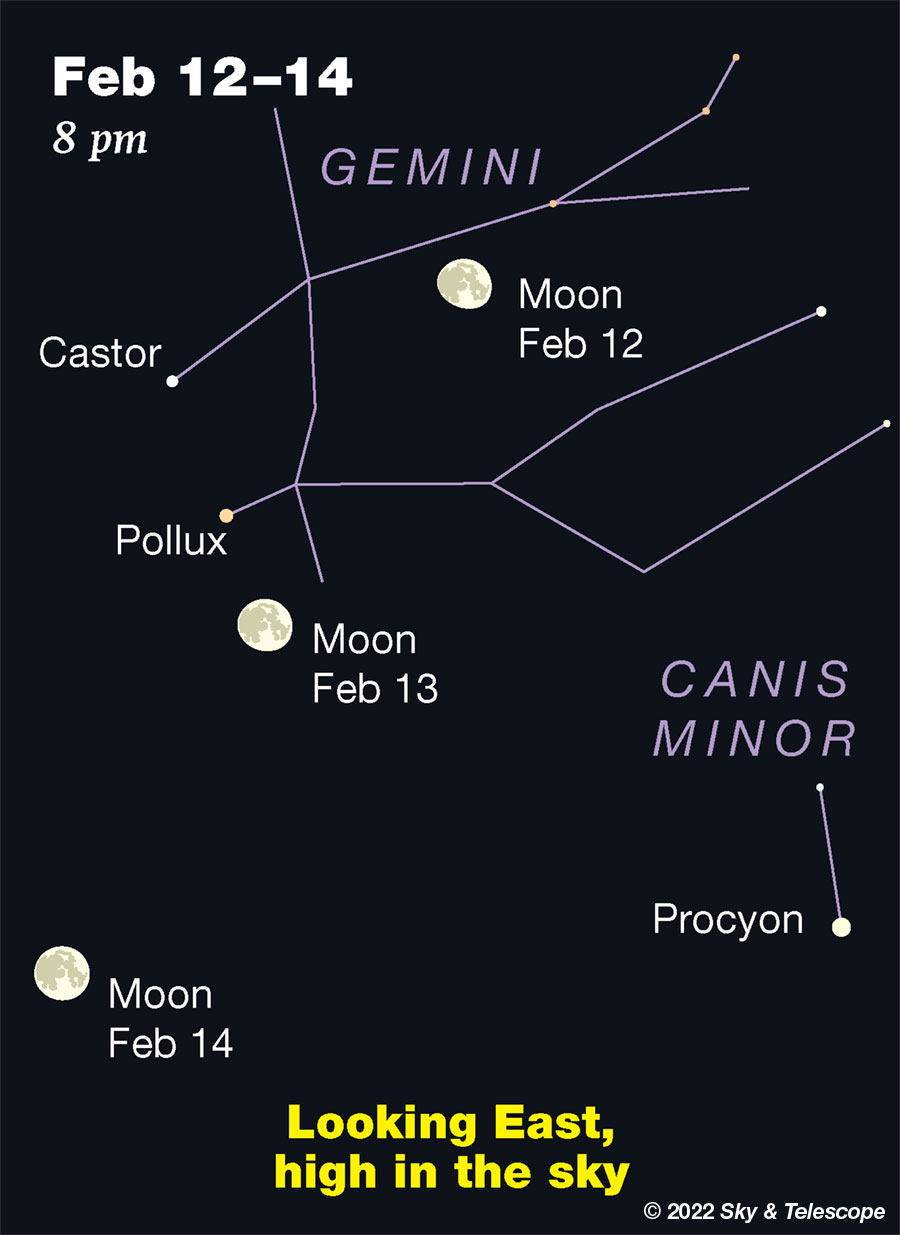 SUNDAY, FEBRUARY 13
■ Now the Moon shines in a near-perfect line with Castor and Pollux, as shown above. The lineup is precisely straight around 9 p.m. in the Eastern time zone, 8 p.m. Central, 7 p.m. Mountain as twilight is ending, and 6 p.m. Pacific where the sky may be too bright to see the stars.
How well can you judge this lineup time where you are? It will be a little different across the continent regardless of time zone. This is because the Moon is moving eastward along its orbit, and because different vantage points on Earth have significantly different lines of sight to the Moon (topocentric parallax), and Earth is carrying you eastward as it rotates. Hold a straightedge to the Moon and stars, and you may be able to fix the lineup time to an uncertainty of 15 minutes or less.
The Moon travels along its orbit by about one Moon-diameter per hour, a rule of thumb widely known among amateur astronomers.
MONDAY, FEBRUARY 14
■ The Moon has traveled east into dim Cancer. It forms a long, gently curving arc with the two Dog Stars: Procyon in Canis Minor and then brighter Sirius in Canis Major. This star-arc extends to the Moon's right in twilight, and lower right of it later in the night. The three are spaced about 25° apart.
TUESDAY, FEBRUARY 15
■ Full Moon tonight and tomorrow night for the Americas. The Moon is exactly full at 11:56 a.m. Wednesday morning Eastern Standard Time, about halfway between tonight and tomorrow night.
This evening the Moon shines just to the upper right of the Sickle of Leo. The Sickle's two brightest stars are Regulus, about 10° below the Moon, and Algieba (Gamma Leonis) the same distance to the Moon's lower left (as seen from mid-northern latitudes).
WEDNESDAY, FEBRUARY 16
■ Now the Moon, as full as it was yesterday evening, shines closer to the lower left of Regulus and Algieba: about 5° from each this time.
THURSDAY, FEBRUARY 17
■ It's mid-February, so Orion stands at his highest in the south by about 8 p.m. Here he looks smaller than you probably remember him appearing early in the winter when he was low. You're seeing the "Moon illusion" effect. Constellations, not just the Moon, look bigger when they're low.
Under Orion's feet, and to the right of Sirius now, hides Lepus the Hare. Like Canis Major, this is a constellation with a connect-the-dots that really looks like what it's supposed to be. He's a crouching bunny, with his nose pointing lower right, his faint ears extending up toward Rigel (Orion's brighter foot), and his body bunched to the left. His brightest two stars, 3rd-magnitude Alpha and Beta Leporis, form the back and front of his neck.
FRIDAY, FEBRUARY 18
■ On these February evenings Canopus, the second-brightest star after Sirius, lurks either just below or maybe just above your south horizon. In one of the many interesting coincidences that devoted skywatchers know about, Canopus lies almost due south of Sirius, by 36°. That's far enough south that it never appears above your horizon unless you're below latitude 37° N (southern Virginia, southern Missouri, central California). And there you'll need an open, flat south horizon. Canopus crosses the south point on the horizon 21 minutes before Sirius does.
When to look? Canopus is due south right when Beta Canis Majoris — Murzim the Announcer, the star about three finger-widths to the right of Sirius — is at its highest due south over your landscape. That's about 8 or 9 p.m. now, depending on how far east or west you live in your time zone. Drop straight down from Murzim then.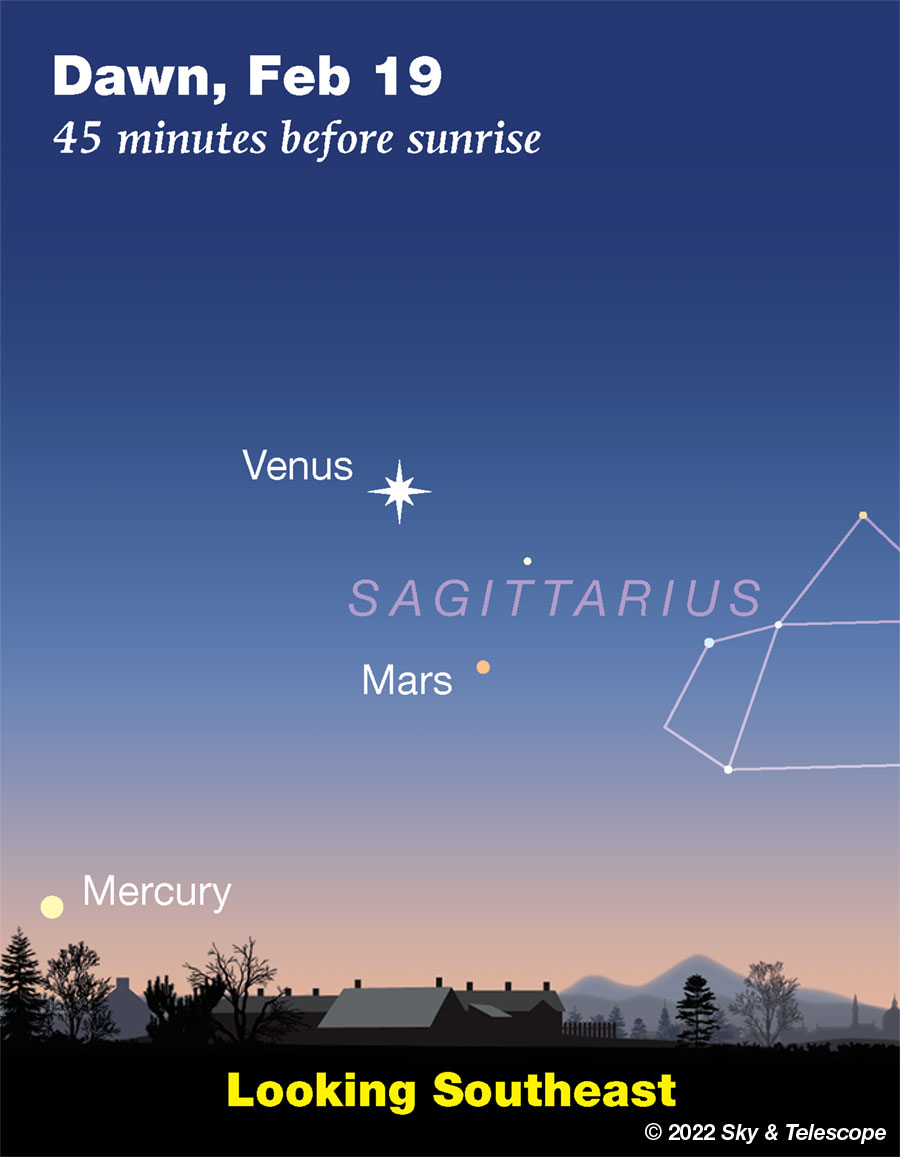 SATURDAY, FEBRUARY 19
■ Right after night becomes completely dark this week, the W of Cassiopeia shines high in the northwest standing almost on end.
The brightest star between Cassiopeia and the zenith at that time (for the world's mid-northern latitudes) is Alpha Persei or Mirfak, magnitude 1.8. It lies on the lower-right edge of the Alpha Persei Cluster: a large, elongated, very loose swarm of fainter stars about the size of your thumbtip at arm's length. At least a dozen are 6th magnitude or brighter. They show best in binoculars.
Alpha Per, a white supergiant, is a true member of the group and its brightest light. It and the rest are about 560 light-years away.
Advertisement
---
This Week's Planet Roundup
Mercury, Venus, and Mars continue to shine in early dawn, as shown above. They're low in the southeast, forming a triangle that changes shape slightly through the week.
Brightest is Venus, now peaking at a dazzling magnitude –4.9. In a telescope it's a thick crescent; the globe appears about a quarter sunlit, as it always does when Venus is at its greatest brilliancy.
Mars is only one three-hundredth that bright at a puny magnitude +1.4. Look for it 6° to Venus's lower right.
Mercury is more twice that far to Venus's lower left. It's about magnitude 0.0 all week.
Jupiter (magnitude –2.0, in Aquarius) sinks ever lower in evening twilight day by day, soon to depart. Look for it above your west-southwest horizon as twilight deepens. It sets before twilight ends.
Saturn is out of sight in the glare of the Sun.
Uranus (magnitude 5.8, in Aries) is high in the southwest after dark. Finder chart.
Neptune (magnitude 8.0, in Aquarius) is sinking away in the west-southwest, trailing behind Jupiter unseen.
---
All descriptions that relate to your horizon — including the words up, down, right, and left — are written for the world's mid-northern latitudes. Descriptions and graphics that also depend on longitude (mainly Moon positions) are for North America.
Eastern Standard Time, EST, is Universal Time (also called UT, UTC, GMT, or Z time) minus 5 hours.
---
Want to become a better astronomer? Learn your way around the constellations. They're the key to locating everything fainter and deeper to hunt with binoculars or a telescope.
This is an outdoor nature hobby. For an easy-to-use constellation guide covering the whole evening sky, use the big monthly map in the center of each issue of Sky & Telescope, the essential magazine of astronomy.
Once you get a telescope, to put it to good use you'll need a detailed, large-scale sky atlas (set of charts). The basic standard is the Pocket Sky Atlas (in either the original or Jumbo Edition), which shows stars to magnitude 7.6.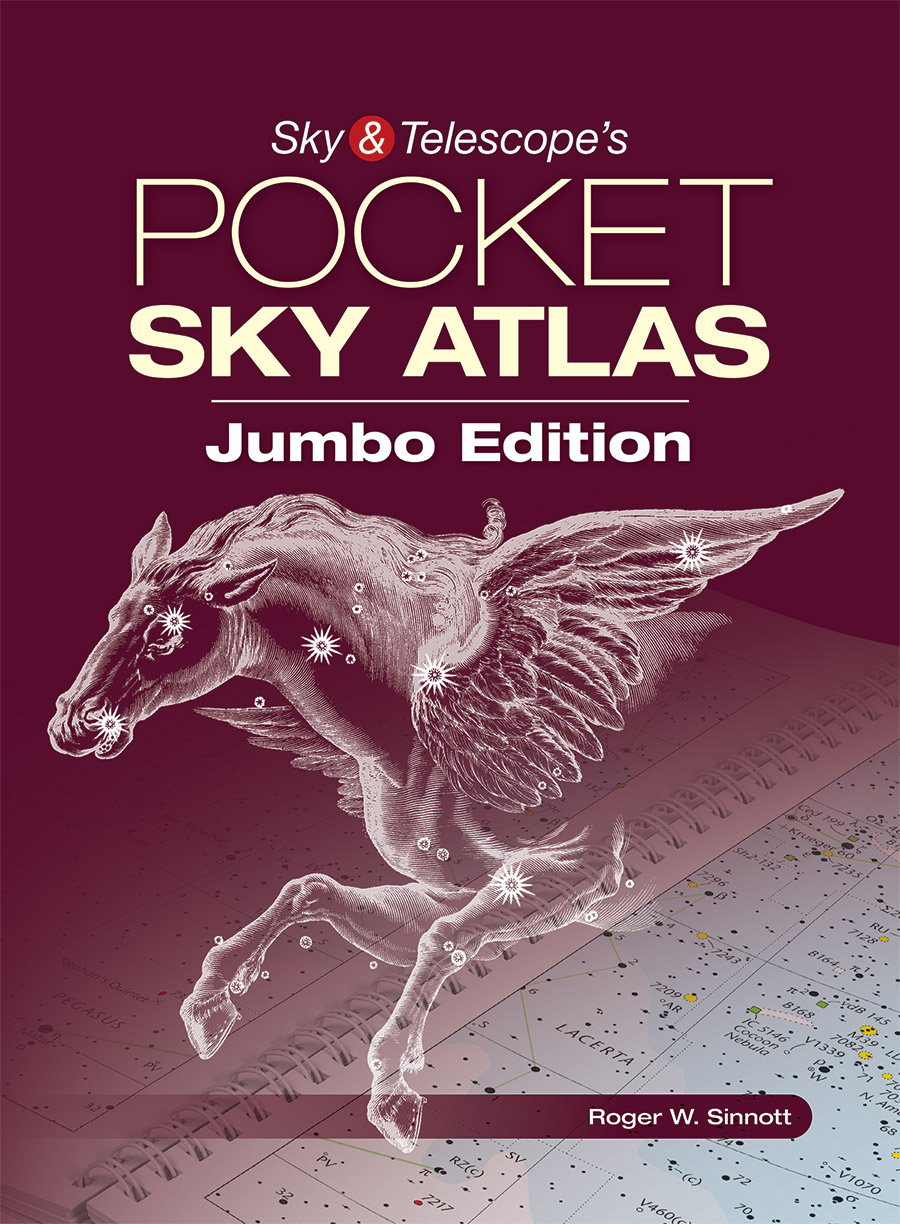 Next up is the larger and deeper Sky Atlas 2000.0, plotting stars to magnitude 8.5; nearly three times as many. The next up, once you know your way around, are the even larger Interstellarum atlas (stars to magnitude 9.5) or Uranometria 2000.0 (stars to magnitude 9.75). And be sure to read How to Use a Star Chart with a Telescope. (It applies just as much to charts onscreen as to charts on paper.)
You'll also want a good deep-sky guidebook. A beloved old classic is the three-volume Burnham's Celestial Handbook. An impressive more modern one is the big Night Sky Observer's Guide set (2+ volumes) by Kepple and Sanner.
Can a computerized telescope replace charts? Not for beginners, I don't think, and not on mounts and tripods that are less than top-quality mechanically, meaning heavy and expensive. And as Terence Dickinson and Alan Dyer say in their Backyard Astronomer's Guide, "A full appreciation of the universe cannot come without developing the skills to find things in the sky and understanding how the sky works. This knowledge comes only by spending time under the stars with star maps in hand."
---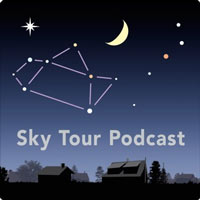 Audio sky tour. Out under the evening sky with your
earbuds in place, listen to Kelly Beatty's monthly
podcast tour of the heavens above. It's free.
---
"The dangers of not thinking clearly are much greater now than ever before. It's not that there's something new in our way of thinking, it's that credulous and confused thinking can be much more lethal in ways it was never before."
            — Carl Sagan, 1996
"Facts are stubborn things."
            — John Adams, 1770
(News Source :Except for the headline, this story has not been edited by Times Of Nation staff and is published from a skyandtelescope.org feed.)
Read Also: Latest News | Current Affairs News | Today News | English News | World News Today

TimesofNation.com offer news and information like: English newspaper today | today English news | English news live | times India | today news in English in India | breaking news in India today | India TV news today & Hindustan News.

You can Read on TimesofNation.com latest news today, breaking news headlines, Top news. Discover national and international news on economy, politics, defence, sports, world news & other relatively current affair's news.
Plugin Install : Subscribe Push Notification need OneSignal plugin to be installed.