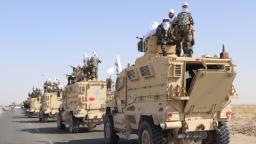 Taliban fighters sit in the cockpit of an Afghan Air Force aircraft left behind at the airport in Kabul on August 31.
Heavily armed Taliban fighters are seen the airport in Kabul on August 31 wearing camouflage uniforms and desert boots.
Afghan Air Force A-29 attack aircraft are pictured amid armored vests inside a hangar at the Kabul airport on August 31. Pentagon Press Secretary John Kirby said the US military had made "unusable all the gear that is at the airport — all the aircraft, all the ground vehicles."
Taliban fighters from the Fateh Zwak unit storm into the Kabul airport after the United States military completed its withdrawal on August 31.
Maj. Gen. Chris Donahue, commanding general of the 82nd Airborne, boards a C-17 military transport plane to depart Kabul on August 31. He was the last soldier to depart the country.
Celebratory gunfire lights up the sky after the last US aircraft left the Kabul airport on August 31.
Taliban fighters bow in prayer after they secured the Kabul airport and inspected the equipment that was left behind on August 31.
Planes are seen on the tarmac at the airport in Kabul late on Monday, August 30, ahead of the US deadline to complete its withdrawal from Afghanistan.
A C-17 military transport plane is a dot in the sky at sunset as it leaves Kabul on August 30.
Samia Ahmadi, right, whose father and fiancé are both dead following the US drone strike, mourns on August 30. The Pentagon has said the airstrike resulted in secondary explosions, and those explosions may have been what killed the civilians.
Members of the Badri 313 Battalion, a group of Taliban special forces fighters tasked with securing the area surrounding the Kabul airport, perform evening prayers on Saturday, August 28.
People who were injured in the suicide bombing on August 26 are visited by family members at a hospital in Kabul.
Smoke rises from the explosion outside the airport in Kabul on August 26.
An injured person arrives at a hospital after the suicide bombing outside the airport in Kabul on August 26.
Families who fled Kabul, Afghanistan, wait to board a bus in Chantilly, Virginia, after they arrived at Washington Dulles International Airport on Wednesday, August 25.
Zabihullah Mujahid, a spokesman for the Taliban, addresses hundreds of religious leaders who were attending an event held by the Taliban's Preaching and Guidance Commission on August 23.
Boys play in a retention pool in Kabul on Sunday, August 22, at the tomb of Mohammed Nadir Shah, a former king of Afghanistan.
Amir Saib Zada negotiates with customers at his shop that sells luggage and burqas in Kabul's Lycee Maryam Bazaar on August 22.
People gather outside the airport in Kabul as a military transport plane takes off on Saturday, August 21.
Families who fled Kabul board a bus in Chantilly, Virginia, after they arrived at Washington Dulles International Airport on August 21.
In this photo released by the US Air Force, an air crew prepares to load evacuees onto a C-17 transport plane at the airport in Kabul on August 21.
Khalil Haqqani, a leader of the Taliban-affiliated Haqqani network and a US-designated terrorist, delivers remarks after Friday prayers at the Pul-e Khishti Mosque in Kabul on August 20. It was the first Friday prayers since the Taliban took control of Afghanistan.
A boy sells Taliban flags to put on vehicles in the middle of a Kabul intersection on August 20.
People and vendors gather on the streets of Kabul on August 20.
A heavily armed Taliban fighter guards the Afghanistan central bank in Kabul on August 19.
In this photo released by the White House on August 18, US President Joe Biden and Vice President Kamala Harris are briefed by their national security team on the evolving situation in Afghanistan.
People walk past a half-destroyed poster of former Afghan President Ashraf Ghani in Kabul on August 18.
Afghans rush to the airport in Kabul as they try to flee the capital on August 16.
A US soldier points a gun while working to secure Kabul's airport on August 16. US Defense Secretary Lloyd Austin approved the deployment of 1,000 more American troops into the country due to the deteriorating security situation, a defense official told CNN, upping the number of troops in the country to 6,000. 
Afghans sit on the tarmac as they wait to leave the airport in Kabul on August 16.
In this photo released by the US Air Force, an Afghan child sleeps on the floor of an Air Force transport plane during an evacuation flight out of Kabul on August 15.
An Afghan soldier, who didn't want to use his name, is seen at an outpost in Kabul on August 15. He looked at the city below and said, "This is like a quick death," referring to the fall of Kabul. He said it was going to be a hard moment for him when he removes his uniform permanently after 10 years of service.
A Taliban flag is seen on a motorcycle ridden by a Taliban fighter on August 15.
British forces arrive in Kabul on August 15 to assist British nationals in evacuating the city.
A US military helicopter flies above the US Embassy in Kabul on August 15. The embassy was evacuated as Taliban fighters entered the city.
Taliban fighters ride a Humvee near a Kabul roundabout on August 15.
Evacuees crowd the interior of a US Air Force transport plane as they travel from Kabul to Qatar on August 15.
A traffic jam is seen in Kabul on August 15 as some Afghans were looking to flee the city.
President Biden holds a virtual meeting with senior officials and members of his national security team on August 15. Biden was working from Maryland's Camp David, the presidential retreat where he was vacationing at the time.
People wait to cross the Afghan-Pakistani border at Chaman, Pakistan, on August 13. The border crossing was closed for several days before it was reopened.
Displaced Afghans from the country's northern provinces arrive at a makeshift camp in Kabul on August 10. Provincial capitals in the north were among the first to fall to the Taliban.
Hanif, who was struck in the temple by a stray bullet, and his older brother, Mohammed, are seen at the Mirwais Regional Hospital in Kandahar on August 5. Kandahar had been under siege for a month.
An Afghan woman and her children carry their belongings after fleeing their home in Kandahar on August 4.
An Afghan militia fighter looks out for Taliban insurgents at an outpost in Afghanistan's Balkh Province on July 15.
A member of the Afghan Special Forces prays on a highway before a combat mission in Afghanistan's Kandahar province on July 11.
Afghan commandos look out from a window at a home in Kunduz on July 6. The Taliban were moving rapidly to take over districts in northern Afghanistan.
Hundreds of armed men attend a gathering on the outskirts of Kabul on June 23 to announce their support for Afghan security forces and say that they are ready to fight against the Taliban.
A helicopter is loaded onto a US Air Force plane as American forces carry out their withdrawal from Afghanistan on June 16.
News Source : rss.cnn.com
Plugin Install : Subscribe Push Notification need OneSignal plugin to be installed.