Falcon 9 rocket ready to launch space station resupply mission – Spaceflight Now: Times Of Nation
Watch our live coverage of the countdown and launch of a SpaceX Falcon 9 rocket from Launch Complex 39A at NASA's Kennedy Space Center in Florida. The Falcon 9 rocket will launched SpaceX's 28th resupply mission to the International Space Station. Follow us on Twitter.
SpaceX's 28th resupply mission to the International Space Station is set to depart Florida's Space Coast Sunday aboard a Falcon 9 rocket, heading off on a two-day chase of the orbiting research outpost with more than 7,200 pounds of hardware, provisions, and scientific experiments, including two new roll-out solar arrays to upgrade the lab's power system.
Liftoff of the Dragon spacecraft atop a SpaceX Falcon 9 rocket is set for 12:12:47 p.m. EDT (1612:47 UTC) Sunday from pad 39A at NASA's Kennedy Space Center, less than four hours after the scheduled launch of a different Falcon 9 from a nearby launch pad at Cape Canaveral Space Force Station. The back-to-back launches would mark the shortest turnaround between two space launches from Florida since 1966.
But the weather forecast is iffy, with just a 15% chance of good weather for liftoff of the Falcon 9 from Cape Canaveral with 22 Starlink internet satellites Sunday morning. There's a 40% chance of good weather for launch of the Cargo Dragon resupply spacecraft later Sunday.
This mission, called CRS-28, will haul 7,284 pounds (3,304 kilograms) of cargo to the space station, primarily hardware for upgrades and space station maintenance, along with crew supplies. NASA has contracted with SpaceX for a series of resupply flights to the station since 2012.
It will be the fourth flight of this Cargo Dragon spacecraft, designated C208. SpaceX has three Cargo Dragon capsules in its inventory, and four human-rated Crew Dragon vehicles, with a fifth Crew Dragon in production. SpaceX says it aims to fly each vehicle as many as 15 times, and the existing fleet — along with the new Crew Dragon in manufacturing now — will be sufficient to meet the customer demand for resupply and astronaut flights, primarily to the International Space Station.
The delivery of the next set of ISS Roll-Out Solar Arrays, or iROSA units, continues a years-long mid-life space station upgrade.
The two solar array wings are rolled up on spools to fit inside the 13-foot (4-meter) diameter of the Dragon spacecraft's rear cargo bay. Later this month, astronauts Steve Bowen and Woody Hoburg will head outside the space station for two spacewalks to install and assist in the deployment of the two roll-out solar arrays.
NASA has sent four roll-out solar arrays to the space station on SpaceX resupply missions in June 2021 and November 2022.
"We're very excited to have this third of four sets of arrays, and we're looking forward to having those installed," said Dina Contella, NASA's operations integration manager for the International Space Station.
The reusable first stage of the Falcon 9 will target a landing on a SpaceX drone ship floating in the Atlantic Ocean. The CRS-28 mission will mark the fifth flight for the reusable Falcon 9 booster stage numbered B1077.
SpaceX rolled the Falcon 9 rocket to the launch pad at Kennedy Space Center on Thursday to begin loading time-sensitive research hardware, fresh vegetables and fruit, and cheeses for the space station's seven-person crew. The rest of the more than 3.5 tons of cargo was installed into the spacecraft at a nearby payload processing facility.
Assuming a launch Sunday, the Cargo Dragon spacecraft will dock at the Harmony module on the International Space Station at early Tuesday to begin a three-week stay.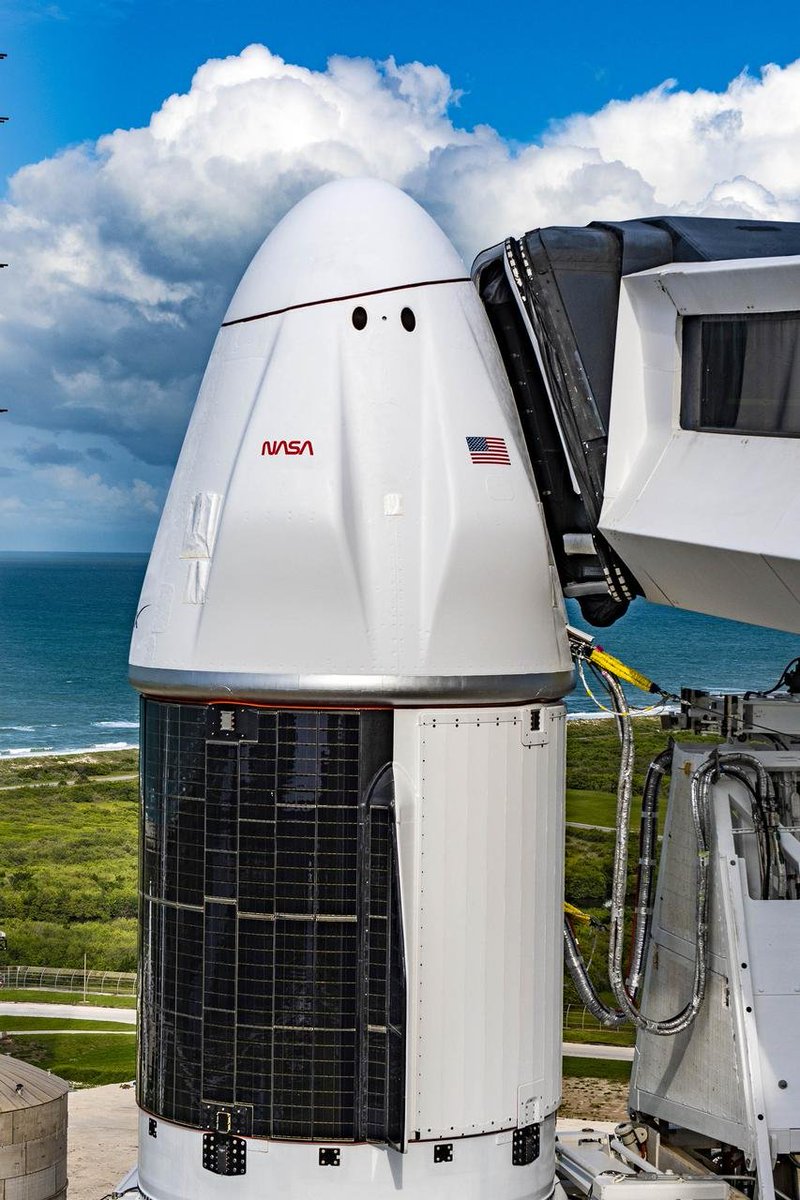 The space station's Canadian-built robotic arm will reach into the Dragon spacecraft's unpressurized trunk to extract the two roll-out solar arrays and mount them on the station's football field-long power truss. Then Bowen and Hoburg will head outside the station June 9 and June 15 for spacewalks to install and unroll the new solar arrays.
Meanwhile, astronauts inside the station will unpack cargo stowed inside Dragon's pressurized compartment. The supplies include food, clothing, experiments, and other hardware for the orbiting research outpost and its seven-person crew.
The station crew members will receive fresh apples, blueberries, grapefruits, oranges, tomatoes, and various cheeses, according to Phil Dempsey, NASA's transportation integration manager for the space station program.
SpaceX will launch the upcoming space station cargo delivery mission under contract with NASA's Commercial Resupply Services program. The CRS-28 cargo mission will haul 7,284 pounds (3,304 kilograms) of payloads to the station, primarily hardware for upgrades and space station maintenance, along with crew supplies.
The Cargo Dragon spacecraft will deliver equipment to maintain the space station's urine processing system, which recovers and treats fluid from urine and converts it to drinking water for the space station crew.
The scientific payloads aboard SpaceX's CRS-28 mission include six CubeSats that will be unpacked by astronauts and transferred through an airlock in the Japanese lab module for release into orbit with a robotic arm.
Five of the CubeSats were developed by university students in Canada. Those missions, sponsored by the Canadian Space Agency, are primarily educational in nature, giving students experience with satellite manufacturing and operations.
The CubeSats carry instruments to monitor the melting of Arctic ice, collect data on space radiation, test a virtual reality camera in space, observe dust storms in Earth's atmosphere, and study how exposure to the extreme environment of space affects materials similar to the surfaces of the moon and asteroids.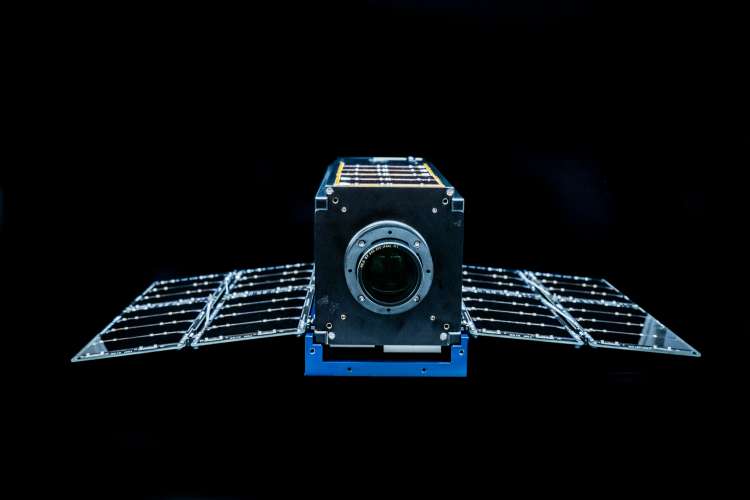 Another CubeSat mission called Moonlighter will serve as a testbed in orbit to test defenses against cyber threats. The spacecraft is about the size of loaf of bread, and once deployed from the space station, it will be part of an annual challenge where cyber security experts will attempt to hack the satellite.
The Moonlighter mission, billed as the world's first "hacking sandbox" in space, is a joint effort between Aerospace Corp., the Air Force Research Laboratory, the Space Force's Space Systems Command.
"We wanted to build something new from the ground up to fill gaps in cyber activities in space, where the vehicles to do cyber security testing in orbit have not existed," said Aaron Myrick, Moonlighter project leader for Aerospace. "When we say it's a sandbox, Moonlighter is like a playground where we provide the space and the tools for professional hackers to perform cyber exercises and test out new technology. We hope this will lead to more cyber-resilient architectures for future space missions."
Other research investigations aboard SpaceX's CRS-28 mission will evaluate plant biology and growth in microgravity and the effects of spaceflight on genetics. A Danish experiment will try to observe and study lightning flashes the bolt out of the tops of thunderstorms.
But the new roll-out solar arrays, or iROSAs, are the top priority of the CRS-28 mission.
The solar arrays were built by Redwire under contract with Boeing, which oversees space station maintenance work for NASA. The pair of solar arrays launching on the CRS-28 cargo mission are the final set NASA has purchased, but Contella said Thursday the agency has "plans in place to try and build a fourth set of arrays" if funding levels permit.
The iROSA arrays are being extended over the station's eight existing solar array wings, canted at angles to partially cover the older solar panels. Fully deployed, the roll-out solar arrays each stretch 63 feet long and 20 feet wide (19-by-6 meters), about half the length and half the width of the station's original solar arrays. Despite their smaller size, each of the new arrays can generate about the same amount of electricity as each of the original solar wings.
A mounting bracket plugs the new arrays into the station's power channels and rotary joints, which keep the solar wings pointed at the sun as the spacecraft races around Earth at more than 17,000 mph.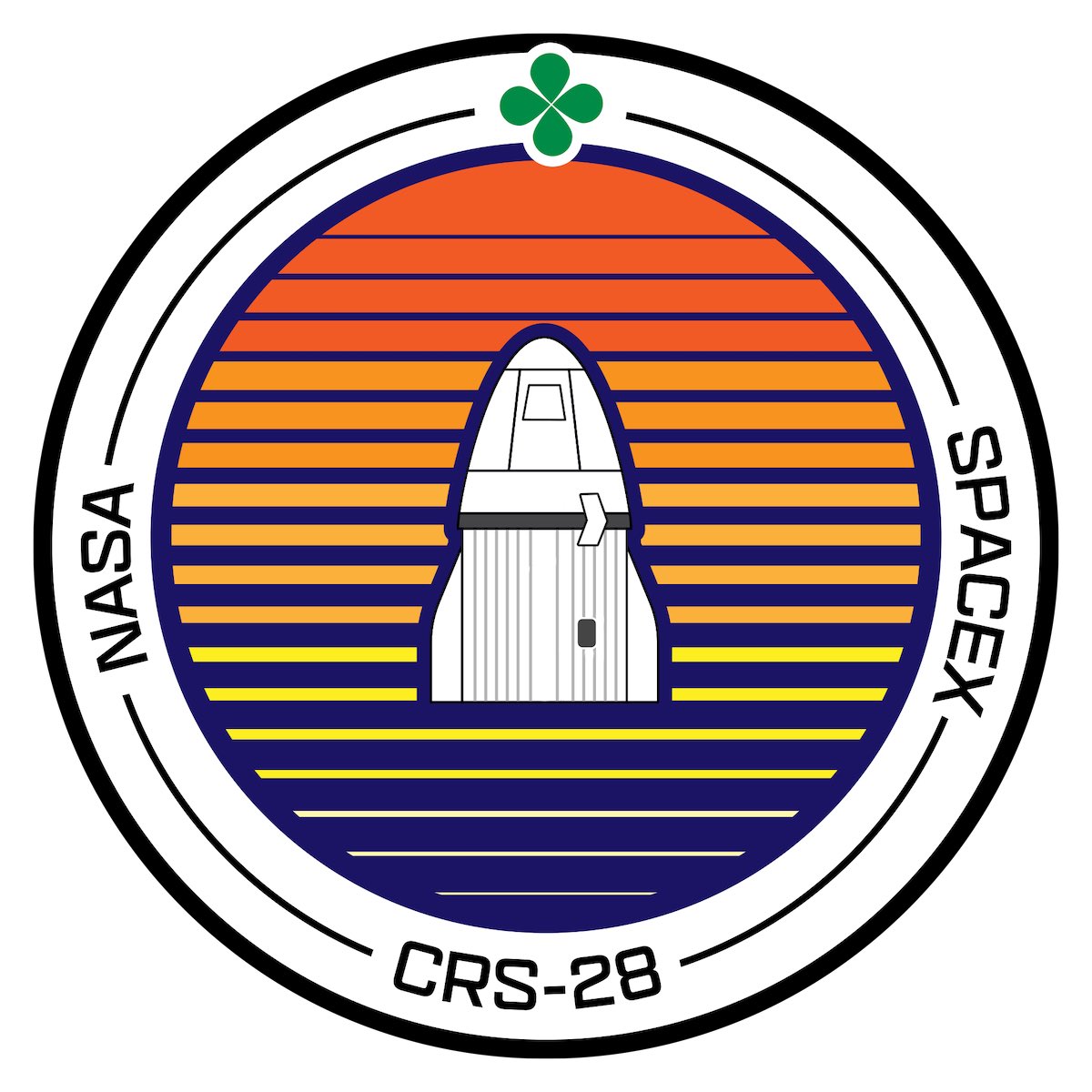 The International Space Station has eight power channels, each fed with electrical power generated from one solar array wing extending from the station's truss backbone. The original solar panels launched on four space shuttle missions from 2000 to 2009. As expected, the solar panel efficiency has degraded over time.
NASA wants to reverse that trend to keep the space station productive through the rest of the 2020s until the lab's anticipated retirement in 2030. A commercial company, Axiom Space, also plans to launch a commercial module to attach to the space station in 2025, which will come with its own power demands.
"This is expected and normal, part of aging, so our ability to augment that power is really important to us, especially as we want to continue research and eventually we'll also be incorporating the Axiom modules into the ISS, so we need to have as much power as possible," Contella said.
One of the new arrays set for launch this weekend will cover one of the original space station solar panels that was damaged by an impact from a small piece of space junk or a micrometeoroid last year, Contella said.
The new pair of arrays will be installed on the starboard side of the space station's power truss, one on the very end of the truss, and another on an inboard section. Once the spacewalking astronauts attach the solar arrays, they will disconnect bolts to allow the arrays to unspool. They are wrapped up for launch using stored energy, meaning they don't need a deployment mechanism to drive them out to their fully extended length.
With the current set of six iROSA units installed, the ISS power system will be capable of generating 215 kilowatts of electricity, according to NASA.
"Overall the ability to continue to bring our power up to normal levels, and even boosted a little higher for future research, is really critical for the space station," Contella said.
The solar arrays give the space station one of its most significant mid-life upgrades since NASA and its international partners completed large-scale assembly of the complex in 2011. The six new solar array wings, coupled with 24 new lithium-ion batteries launched to the station on a series of Japanese resupply missions, will help ensure the lab's power system, can support continued operations through 2030.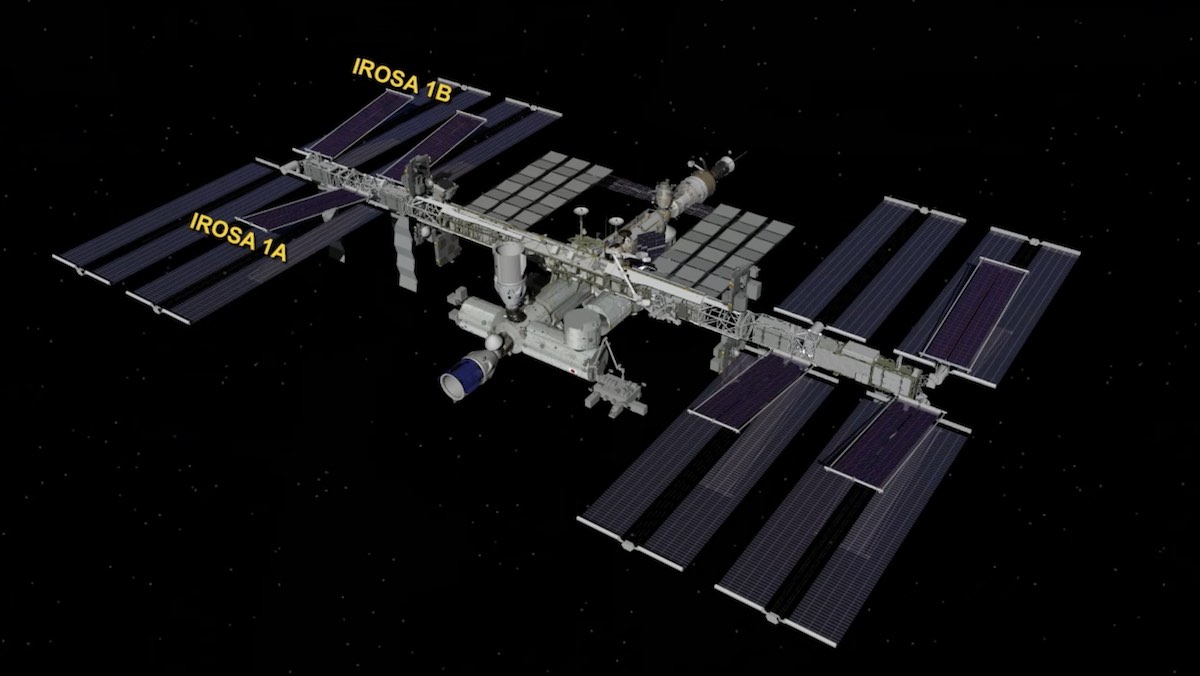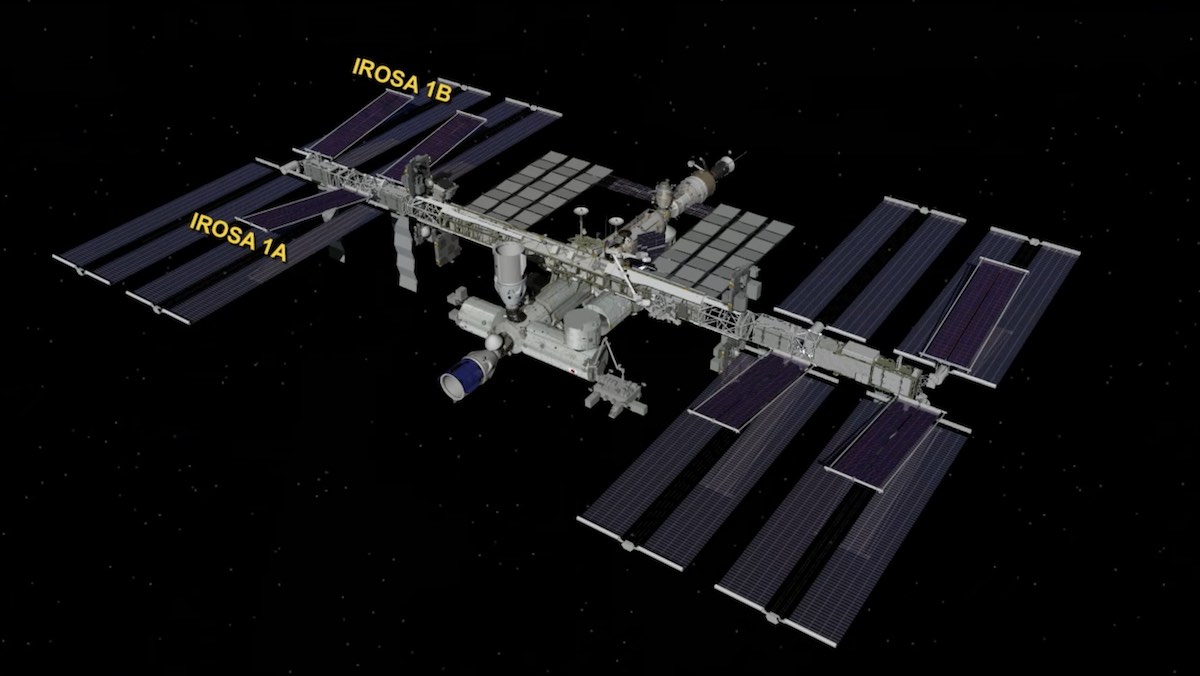 Stationed inside a firing room at a launch control center at Kennedy, SpaceX's launch team will begin loading super-chilled, densified kerosene and liquid oxygen propellants into the 215-foot-tall (65-meter) Falcon 9 rocket at T-minus 35 minutes.
Helium pressurant will also flow into the rocket in the last half-hour of the countdown. In the last seven minutes before liftoff, the Falcon 9's Merlin main engines will be thermally conditioned for flight through a procedure known as "chilldown." The Falcon 9's guidance and range safety systems will also be configured for launch.
After liftoff, the Falcon 9 rocket will headed northeast from Kennedy Space Center to line up with the orbital plane of the space station, climbing into the stratosphere with 1.7 million pounds of thrust from nine Merlin 1D main engines.
The rocket will shut down its first stage booster about two-and-a-half minutes into the mission, allowing the booster to descend to landing on a drone ship about 415 miles (667 kilometers) downrange in the Atlantic Ocean approximately nine minutes after liftoff.
The Dragon capsule will deploy from the Falcon 9's upper stage about 12 minutes after liftoff to begin the journey to the International Space Station. The Dragon spacecraft is set to dock with the space station at 5:50 a.m. EDT (0950 UTC) Tuesday to start a three-week stay at the orbiting research complex.
Astronauts on the space station will open hatches and begin unpacking cargo inside the pressurized compartment of the Dragon spacecraft, while the space station's Canadian-built robotic arm will reach into the unpressurized trunk of the spacecraft to extract the two roll-out solar arrays.
At the end of the CRS-28 mission, the reusable Dragon capsule will undock from the station and head for a parachute-assisted splashdown off the coast of Florida in late June with several tons of cargo and research specimens.
ROCKET: Falcon 9 (B1077.5)
PAYLOAD: Cargo Dragon (CRS-28)
LAUNCH SITE: LC-39A, Kennedy Space Center, Florida
LAUNCH DATE: June 4, 2023
LAUNCH TIME: 12:12:47 p.m. EDT (1612:47 UTC)
WEATHER FORECAST: 40% chance of acceptable weather; Low risk of upper level winds; Moderate risk of unfavorable conditions for booster recovery
BOOSTER RECOVERY: "Just Read the Instructions" drone ship east of Charleston, South Carolina
LAUNCH AZIMUTH: Northeast
TARGET ORBIT: 118 miles by 130 miles (190 kilometers by 210 kilometers), 51.6 degrees inclination
LAUNCH TIMELINE:
T+00:00: Liftoff
T+01:12: Maximum aerodynamic pressure (Max-Q)
T+02:31: First stage main engine cutoff (MECO)
T+02:34: Stage separation
T+02:41: Second stage engine ignition
T+06:46: First stage entry burn ignition (three engines)
T+07:07: First stage entry burn cutoff
T+08:21: First stage landing burn ignition (one engine)
T+08:50: Second stage engine cutoff (SECO 1)
T+08:51: First stage landing
T+12:05: Cargo Dragon separation
T+12:53: Nose cone open sequence begins
MISSION STATS:
230th launch of a Falcon 9 rocket since 2010
241st launch of Falcon rocket family since 2006
5th launch of Falcon 9 booster B1077
4th flight of Dragon capsule C208
194th Falcon 9 launch from Florida's Space Coast
67th SpaceX launch from pad 39A
160th launch overall from pad 39A
8th launch of an upgraded Cargo Dragon vehicle
28th SpaceX cargo mission to the International Space Station
36th Falcon 9 launch of 2023
39th launch by SpaceX in 2023
28th orbital launch attempt based out of Cape Canaveral in 2023
Email the author.
Follow Stephen Clark on Twitter: @StephenClark1.
(News Source :Except for the headline, this story has not been edited by Times Of Nation staff and is published from a spaceflightnow.com feed.)
Read Also: Latest News | Current Affairs News | Today News | English News | World News Today

TimesofNation.com offer news and information like: English newspaper today | today English news | English news live | times India | today news in English in India | breaking news in India today | India TV news today & Hindustan News.

You can Read on TimesofNation.com latest news today, breaking news headlines, Top news. Discover national and international news on economy, politics, defence, sports, world news & other relatively current affair's news.
Plugin Install : Subscribe Push Notification need OneSignal plugin to be installed.