Chinese astronaut launch breaks record for most people in orbit – Spaceflight Now: Times Of Nation
The launch of the next crew to China's Tiangong space station late Monday (U.S. time) added three astronauts to the population of humans in space, which reached a record number of 17 people in orbit — six Chinese citizens, five Americans, three Russians, two Saudis, and one Emirati astronaut.
The arrival of Chinese astronauts Jing Haipeng, Zhu Yangzhu, and Gai Haichao in space following their launch atop a Long March rocket broke the previous record of 14 people in orbit at one time.
The three-man crew climbed into their seats inside the Shenzhou 16 spacecraft a few hours before liftoff at the Jiuquan launch base, a military-run facility in the Gobi Desert of northwestern China. After ground teams moved a safe distance away from the launch pad, the Long March 2F rocket lit its hydrazine-fueled engines at 9:31:10 p.m. EDT Monday (0131:10 UTC; 9:31:10 a.m. Beijing time Tuesday).
A few moments later, the 191-foot-tall (58-meter) rocket climbed away from its launch pad and headed east, lining up with the flight path of the Tiangong space station.
The Long March 2F shed its four strap-on boosters and first stage about two-and-a-half minutes into the mission. A second stage engine ignited to accelerate the Shenzhou 16 spacecraft into orbit, before deploying the crew capsule about 10 minutes after liftoff.
Jing, the first Chinese astronauts to fly to space four times, monitored cockpit displays with his two crewmates throughout the automated ascent into orbit.
Shenzhou 16 extended its power-generating solar panels a few minutes after the spacecraft separated from its launch vehicle. Ground teams declared the launch a success, a smooth start to China's 11th human spaceflight mission, and the fifth to the Tiangong space station.
Liftoff of the Shenzhou 16 mission, carrying a crew of three Chinese astronauts to the Tiangong space station for a six-month expedition. https://t.co/lSqanlUHVy pic.twitter.com/qgaUXIGhO0

— Spaceflight Now (@SpaceflightNow) May 30, 2023
The three astronauts on the Shenzhou 16 spacecraft were scheduled to dock with the Tianhe core module at the Tiangong space station Tuesday, temporarily bringing the crew of the 100-metric ton Chinese space lab to six. The three Chinese astronauts who have lived and worked on the Tiangong space station since November are slated to depart in their Shenzhou 15 crew capsule Saturday to head for re-entry and landing in China.
The six Chinese astronauts aboard or en route to the Tiangong space station are joined in space by 11 crew members on the International Space Station, which normally has a long-duration complement of seven astronauts and cosmonauts. There are four additional private astronauts on the International Space Station for an eight-day stay slated to end Tuesday.
The four commercial astronauts — two Americans and two Saudis — flew to the ISS on a SpaceX Crew Dragon spacecraft on a private astronaut mission managed by Axiom Space. The Axiom crew is set to return to Earth on Tuesday night, targeting a parachute-assisted splashdown in the Gulf of Mexico.
Chinese officials revealed the identities of the astronauts on the Shenzhou 16 mission Monday, about 24 hours prior to the scheduled launch time. In contrast to the U.S. and Russian space programs, China typically keeps its crew assignments secret until the day before launch.
The crew is commanded by Jing Haipeng, 56, a major general in China's military and a former fighter pilot in the Chinese Air Force. Jing, who joined China's astronaut corps in the first group selected in 1998, became the first Chinese astronaut to launch on four space missions, following previous flights in 2008, 2012, and 2016.
In a press conference Monday, Jing said he has studied and memorized more than 70 flight manuals and thousands of operating instructions. He logged 47 days in orbit on his three previous missions.
"At this moment, to be honest, I feel very peaceful because, as an astronaut, going to space is our main responsibility and main business, and winning glory for the country is our … mission," Jing said in translated remarks.
The three-man Shenzhou 16 crew will replace the Shenzhou 15 astronauts, who launched Nov. 29 and are now wrapping up a half-year in orbit. Shenzhou 15 commander Fei Junlong and astronauts Deng Qingming and Zhang Lu took the place of the Shenzhou 14 crew.
Two spaceflight rookies joined Jing on the six-month Shenzhou 16 expedition on China's Tiangong space station.
Zhu Yangzhu, another Chinese pilot and military officer, will serve as spaceflight engineer. Gui Haichao is a payload specialist on the Shenzhou 16 mission, and will become the first civilian astronaut to fly in China's human spaceflight program.
"As an aerospace flight engineer, under the leadership of the commander, I will complete the daily maintenance, maintenance and repair tasks of the space station assembly, carry out load care and actual tests, and ensure that the space station can be safe, stable, efficient and long-lasting," Zhu said Monday.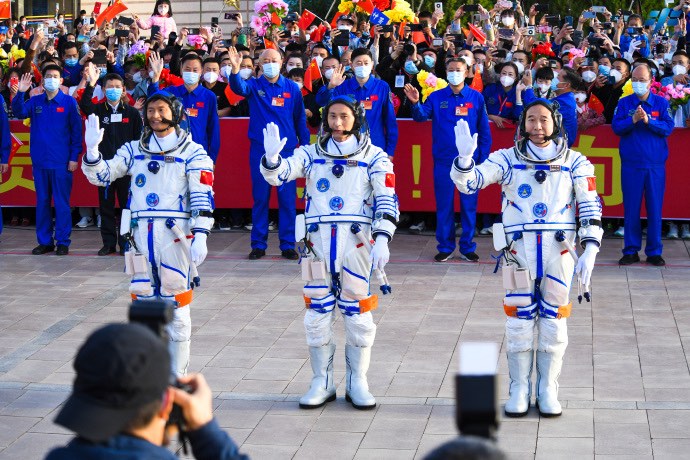 Gui will be responsible for overseeing the scientific experiments on the Tiangong space station, which consists of the Tianhe core module and two attached pressurized lab modules. China completed the initial assembly of the Tiangong space station last year. The Chinese space complex — about a third the size of the International Space Station — is transitioning from construction to a new phase of scientific utilization expected to last more than 10 years.
China launched an piloted cargo ship to the Tiangong space station earlier this month to deliver food, supplies, experiments, and other hardware for use by the Shenzhou 16 crew.
"This mission is the first manned flight to the Chinese space station after it entered a new stage of application and development," Jing said. "As you can see today, a brand new (crew) combination also made its debut. Our crew is composed of the pilot, the first aerospace engineer and the first payload expert, which also means that we will undertake more complex, arduous and arduous tasks."
The tasks awaiting the Shenzhou 16 astronauts include overseeing the safety and maintenance of the Tiangong space station, and performing "large-scale scientific research" experiments, said Lin Xiqiang, deputy director of the China Manned Space Engineering Office.
The astronauts will also connect virtually with Chinese students for classroom lessons and outreach events.
Jing and his crewmates on the Shenzhou 16 mission will also head outside the Tiangong space station for spacewalks to service the lab's electric propulsion system, install a camera and a radiation biological exposure experiment. The scientific program for the Shenzhou 16 mission includes investigations into quantum phenomena, general relativity, and the origin of life, Chinese space officials said.
Overall, China's Manned Space Agency says the Tiangong space station over its lifetime will support nearly 1,000 scientific research and application projects in human physiology, microgravity physical science, astronomy, Earth science, and technology demonstrations.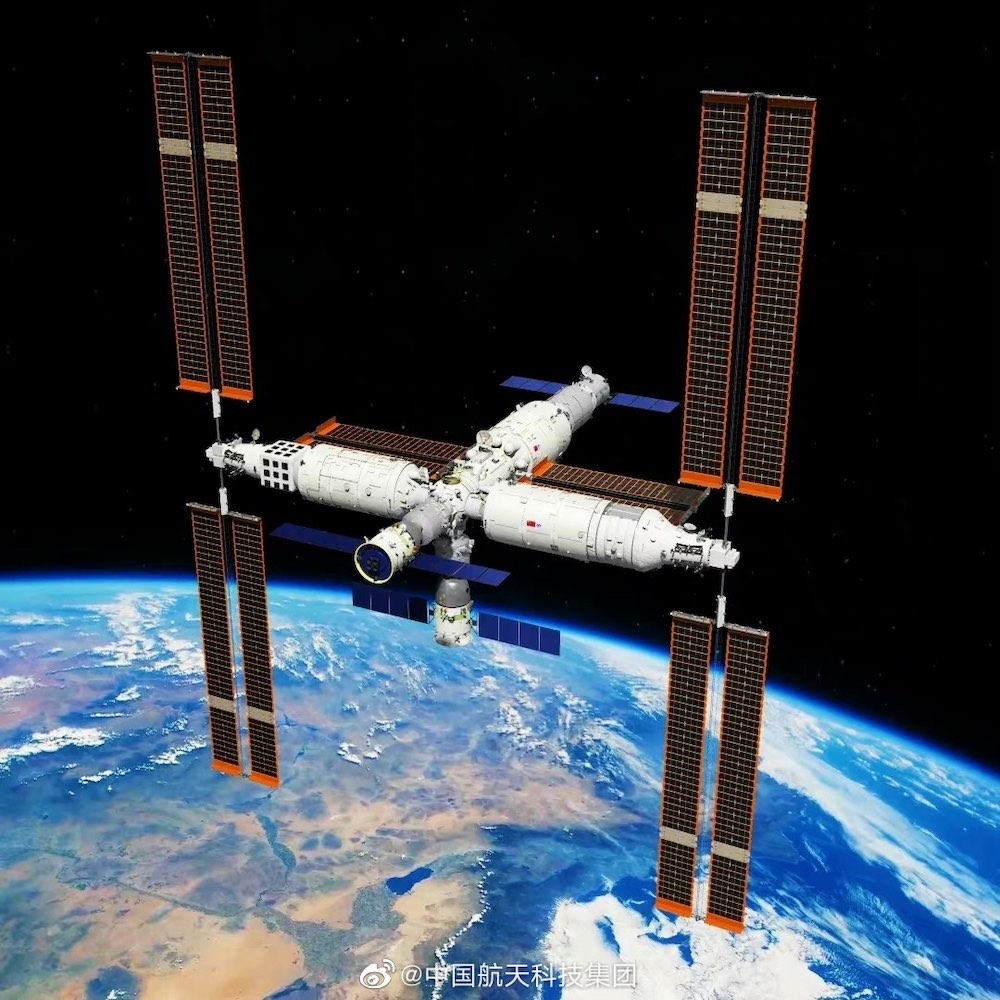 Chinese space officials are also planning to build and launch an expansion module to add to the pressurized volume of the Tiangong space station. Earlier this month, China announced a call for proposals from Chinese industry for a commercial cargo transportation system to resupply the Tiangong station, similar to NASA's Commercial Resupply Services program that fostered development of SpaceX's Dragon and Northrop Grumman's Cygnus cargo vehicles.
China also plans to launch an optical telescope next year that will periodically dock with the Tiangong space station for servicing.
Email the author.
Follow Stephen Clark on Twitter: @StephenClark1.
(News Source :Except for the headline, this story has not been edited by Times Of Nation staff and is published from a spaceflightnow.com feed.)
Read Also: Latest News | Current Affairs News | Today News | English News | World News Today

TimesofNation.com offer news and information like: English newspaper today | today English news | English news live | times India | today news in English in India | breaking news in India today | India TV news today & Hindustan News.

You can Read on TimesofNation.com latest news today, breaking news headlines, Top news. Discover national and international news on economy, politics, defence, sports, world news & other relatively current affair's news.
Plugin Install : Subscribe Push Notification need OneSignal plugin to be installed.