Brilliant Harvest Moon, the last supermoon of 2023, wows stargazers around the world (photos): Times Of Nation
The summer of 2023 has been a treat for full moon fans. Since July, we've seen four supermoons in a row, including the rare Super Blue Moon Moon of August and this weekend, the final supermoon of the year, the Harvest Moon of September, gave skywatchers the final lunar thrill of the season. 
When the moon is at or near its perigee, the closest point in its orbit with Earth, it can appear as much as 30% brighter and 14% larger in the sky, though it's typically hard to spot for casual full moon observer. When this occurs, it's called a supermoon. 
September's full moon on Sept. 29 is also known as the Harvest Moon, reflective of the start of harvest season in the Northern Hemisphere, and was the fourth in a series of supermoons that began in July (with two in August due to the Blue Moon).This year has been an especially fortunate year for supermoon lovers, with a yearlong wait ahead before one will rise again. The next supermoon won't occur until the next Harvest Moon in September 2024. 
To capture the event for Space.com, I headed out to the roof a downtown parking garage. which offered the perfect vantage point to see the moon through some metal scaffolding on an adjacent roof in Bloomington, Indiana. But perhaps a more breathtaking view occurred later that evening from the bridge across Bloomington's Lake Monroe, where the moon graced the water with its reflection as it rose Friday night, sending shimmering ripples as nearby boats headed to the ports to dock for the night.
September full moon 2023 guide: The Super Harvest Moon joins Jupiter and Saturn
Though the supermoon's difference in size is not always apparent to someone prone to occasional glances at the moon, astute observers – especially those eyeing through binoculars or a telescope – can see the difference. 
This week's full moon peaked at 5:57 a.m. EDT (0957 GMT) Friday, Sept. 29, according to In the Sky, and remained incredibly full and bright when it rose again Friday, through the night and into Saturday morning. 
As the Harvest supermoon sailed across the September skies, photographers around the world took advantage of the added lighting, and shot some great photos for 2023's final supermoon.
"I used two telescopes to capture this super detailed shot of the Full Harvest Moon right as it cleared the clouds," astrophotographer Andrew McCarthy wrote on X, formerly known as Twitter, after the full moon. "I live for these moments."
In Germany, fairgoers at the annual Oktoberfest festival in Munich got a stunning view of the full Harvest Moon while swinging on a seated carousel ride and was captured by photographer Christof Stache of the AFP for Getty Images.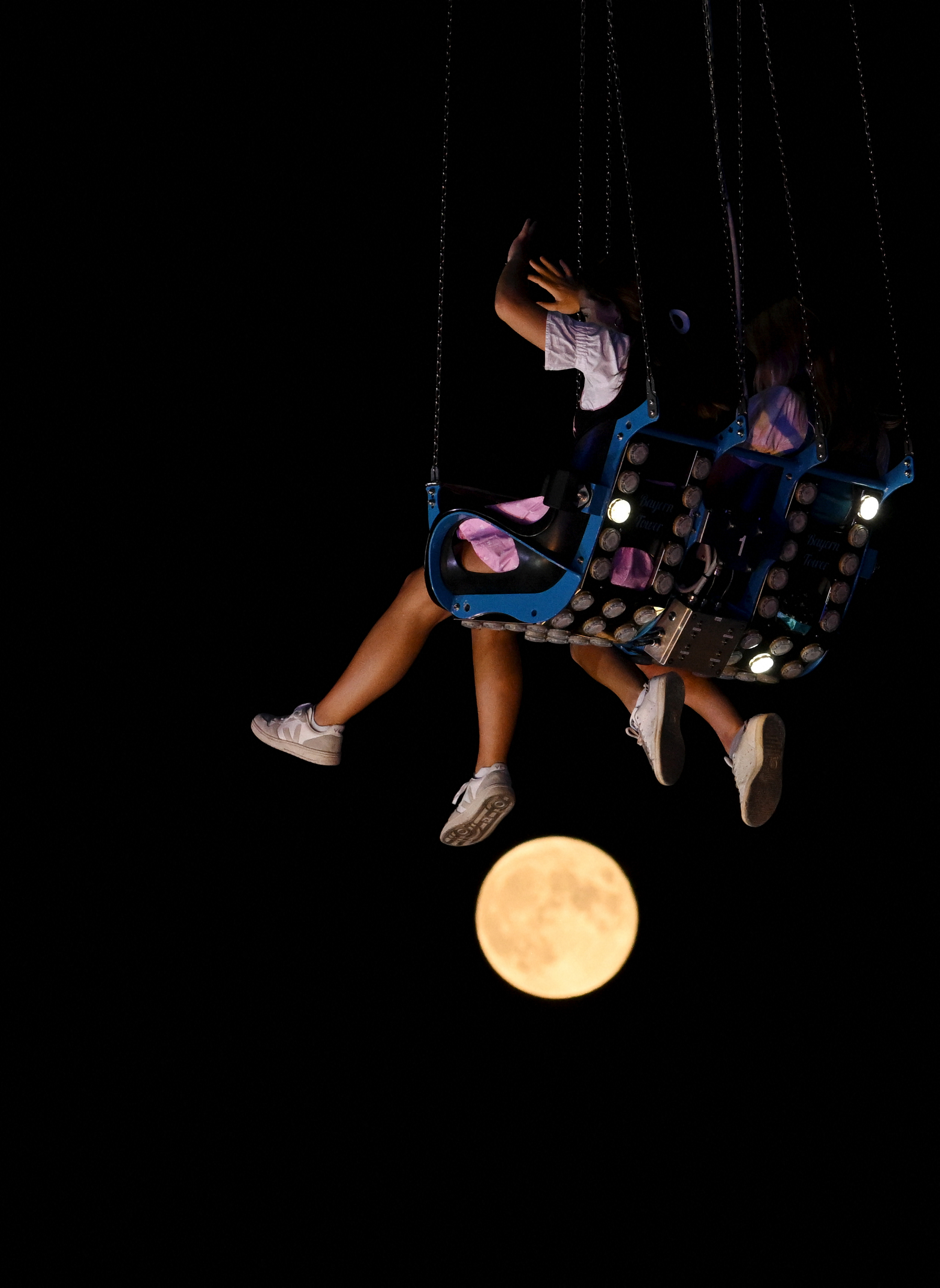 Sometimes, more earthly sights can amplify our view of the full moon. Matt Lantz captured this stunning view of the Harvest Moon setting behind a mesquite tree early on Friday in Parker County, Texas.
Patience is always key in astrophotography and it is on full display in this stunning composition of 14 different images of the Harvest Moon rising over Calascio, Italy. Photographer Lorenzo Di Cola of NurPhoto for Getty Images captured the images and assembled into a single mosaic to show the moon's rising in stages.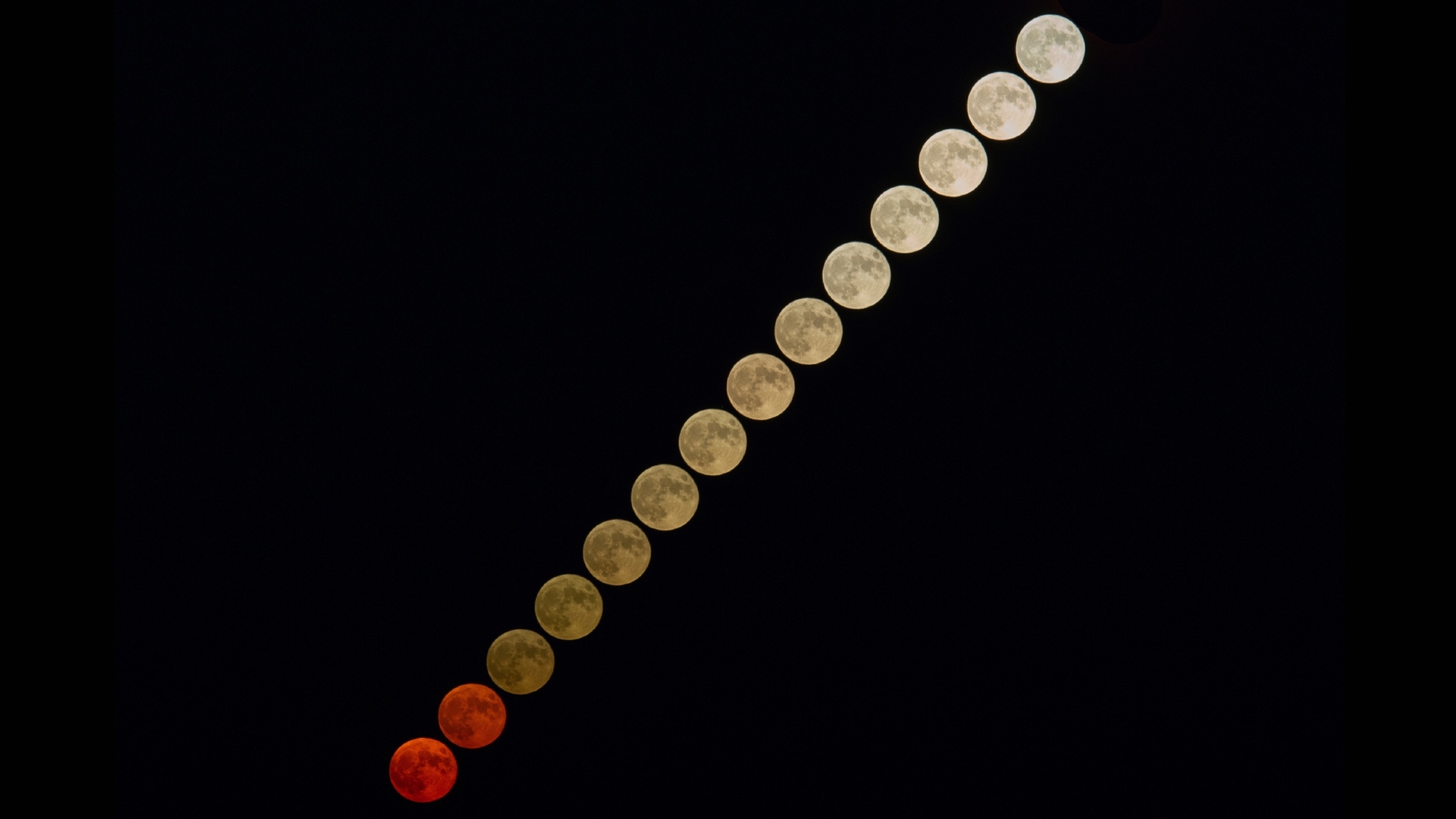 Di Cola had a picturesque backdrop to observe the Harvest Moon. In addition to his mosaic image, he also captured a stunning view of the full moon rising behind Rocca Calascio castle and Santa Maria della Pietà church in Calascio.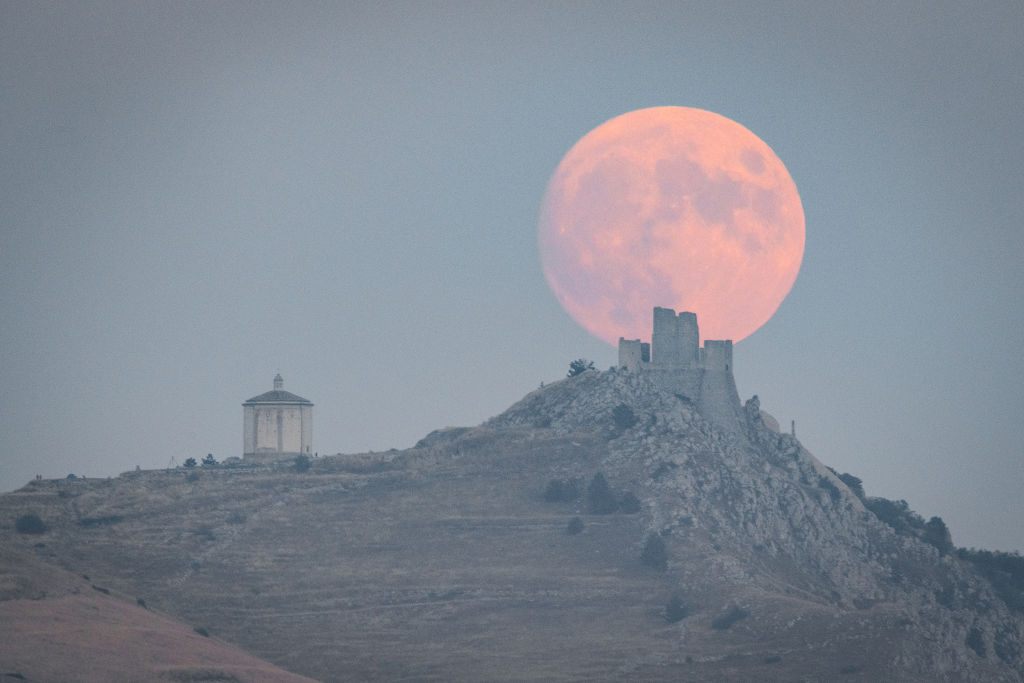 Full moons can often light up the night sky. But skywatcher Olly Griffin combined that night light with one of a more human-built kind to snap a stunning view of the Harvest Moon shining over Poolberg Lighthouse in Dublin, Ireland.
If you are hoping to catch a look at the Harvest Moon, our guides to the best telescopes and binoculars are a great place to start.
If you're looking to snap photos of the night sky in general, check out our guide on how to photograph meteor showers, as well as our best cameras for astrophotography and best lenses for astrophotography.
Editor's Note: If you snap an image of the Harvest Moon and would like to share it with Space.com's readers, send your photo(s), comments, and your name and location to spacephotos@space.com.
(News Source :Except for the headline, this story has not been edited by Times Of Nation staff and is published from a www.space.com feed.)
Read Also: Latest News | Current Affairs News | Today News | English News | World News Today

TimesofNation.com offer news and information like: English newspaper today | today English news | English news live | times India | today news in English in India | breaking news in India today | India TV news today & Hindustan News.

You can Read on TimesofNation.com latest news today, breaking news headlines, Top news. Discover national and international news on economy, politics, defence, sports, world news & other relatively current affair's news.
Plugin Install : Subscribe Push Notification need OneSignal plugin to be installed.