Best space settlement games: Manage bases & build cities on other worlds: Times Of Nation
Take humanity to the stars with the best space settlement games.
As we keep searching for star systems similar to our own and work on getting mankind to other celestial bodies, science fiction has been dreaming of space settlements for decades. With the rise of video games, visions of off-world cities and settlements have multiplied. Some are more scientifically accurate than others, but there are plenty of space settlement games well worth checking out. Scroll down to find our ten favorite picks that you can play right now.
This list has been limited to video games that focus on terraforming and the actual process of building colonies as well as conquering inhospitable planets. Heads up: conflicts may or may not be part of their equations. Still, we've decided to mostly include games where the worlds themselves are the main obstacle that must be tamed.
If you're looking for more specific gaming picks, you might want to check out our list of the best space exploration games or maybe the all-spooky best space horror games collection. 
10. Aven Colony
Platforms: PC, PS4, Xbox One
Developer: Mothership Entertainment
For players who want more of a traditional city builder but set in space, Aven Colony is a perfect fit. It's accessible, good-looking, and often exciting. It goes hard on the sci-fi side as well, with plenty of cool flora and fauna sharing the alien territories with your settlements. And, of course, that means trouble more often than not.
There's also a story campaign worth embarking on and an expedition system that adds yet another layer of unpredictability on top of the daunting task of keeping the settlement running and its citizens alive. Still, Aven Colony's vibes are mostly chill.
9. Civilization: Beyond Earth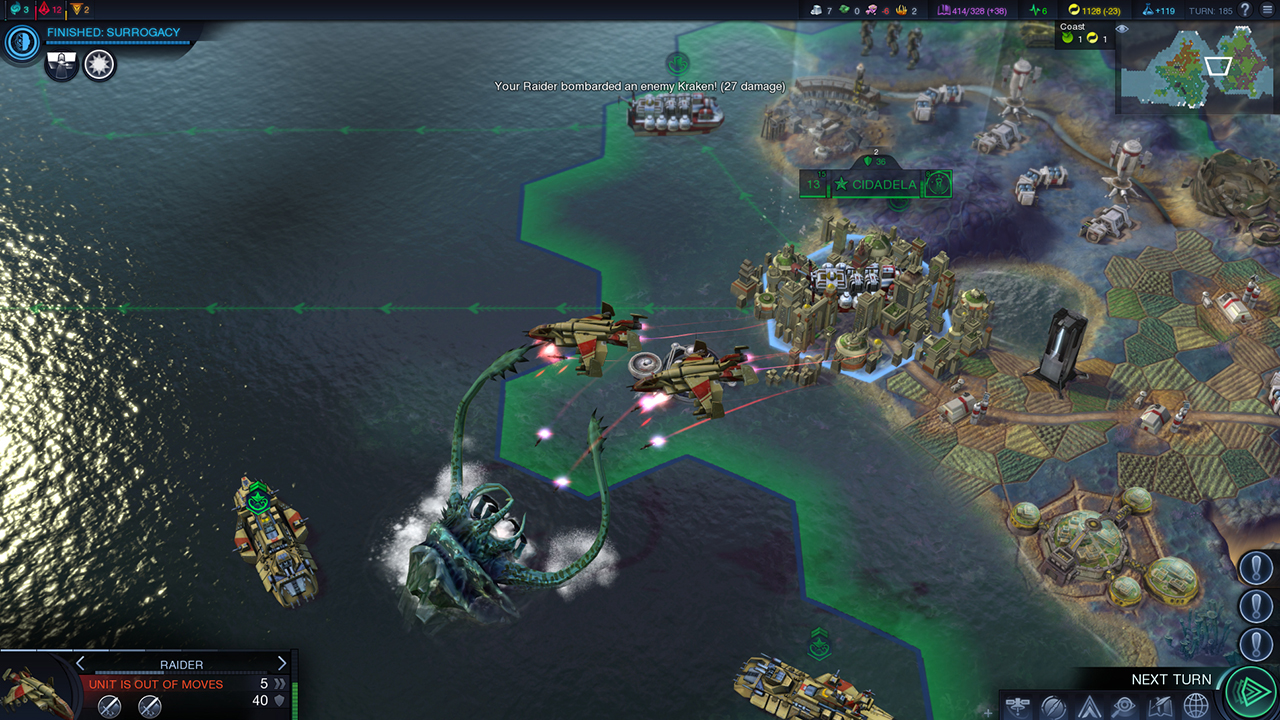 Platforms: PC, macOS, Linux
Developer: Firaxis Games
Beyond Earth was born as a standalone Civilization V spinoff, which means its systems and mechanics had barely evolved. Moreover, the vanilla experience was a bit dull and largely unbalanced, resulting in a rough launch for the game. Thankfully, Firaxis turned the ship around with its expansion, Rising Tide, and a number of critical updates.
Almost nine years later, Beyond Earth is a pretty solid 4X (explore, expand, exploit, exterminate) game that is easy to jump into and provides a meaty sci-fi spin on the Civilization formula. There are religious cults, transhumanist factions, plenty of alien hazards, and a whole world to conquer however you want. Despite its remaining flaws, we promise the "one more turn" curse will take hold of you.
8. Dyson Sphere Program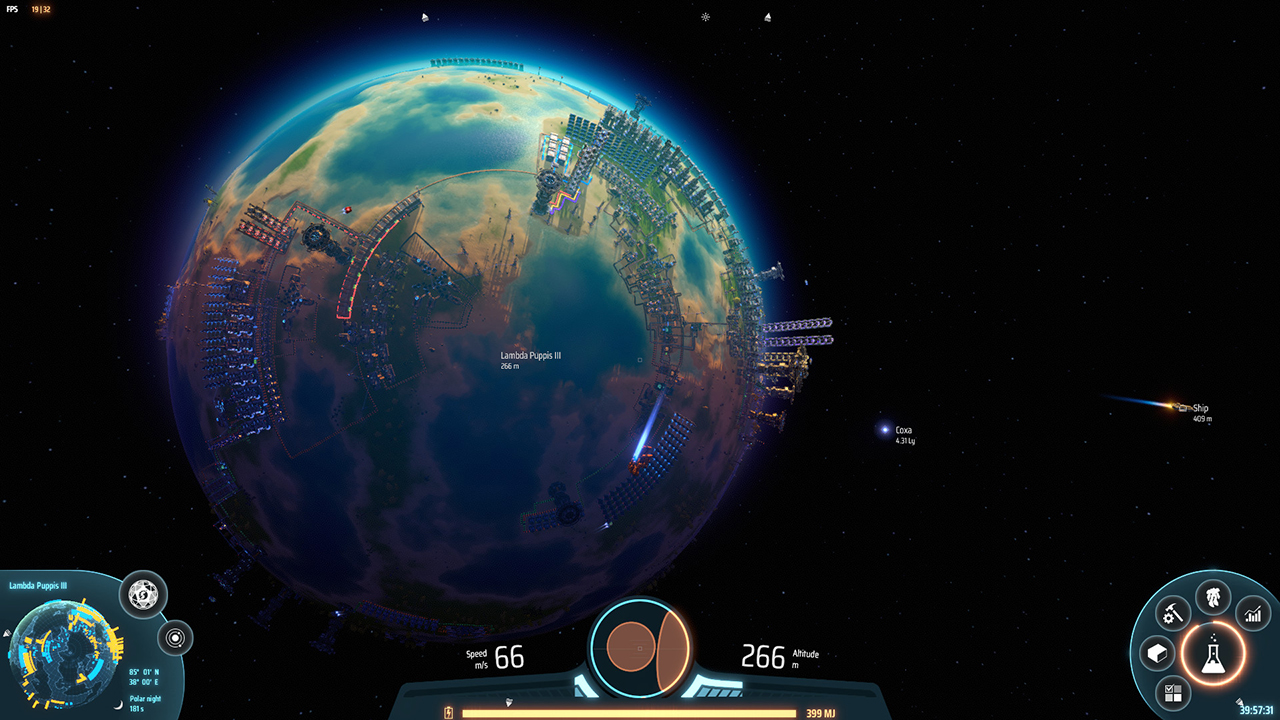 Platforms: PC
Developer: Youthcat Studio
Dyson Sphere Program is a sci-fi simulation game (currently in early access) that goes deep and complex with its key systems. The main objective – building a galactic industrial empire – is simple, but getting there is anything but.
In the far future, science and technology have allowed the human race to thrive thanks to virtual reality and supercomputers, making space and time irrelevant. The only problem is powering the definitive supercomputer. As a result, space engineers are still a thing and are tasked with constructing Dyson spheres to harness the power of stars.
While the core premise behind the game is kind of scary and depressing, Dyson spheres have actually been hypothesized by sci-fi authors and physicists for decades. And seeing such a wild concept powering up an entire game is interesting to say the least.
7. Dune: Spice Wars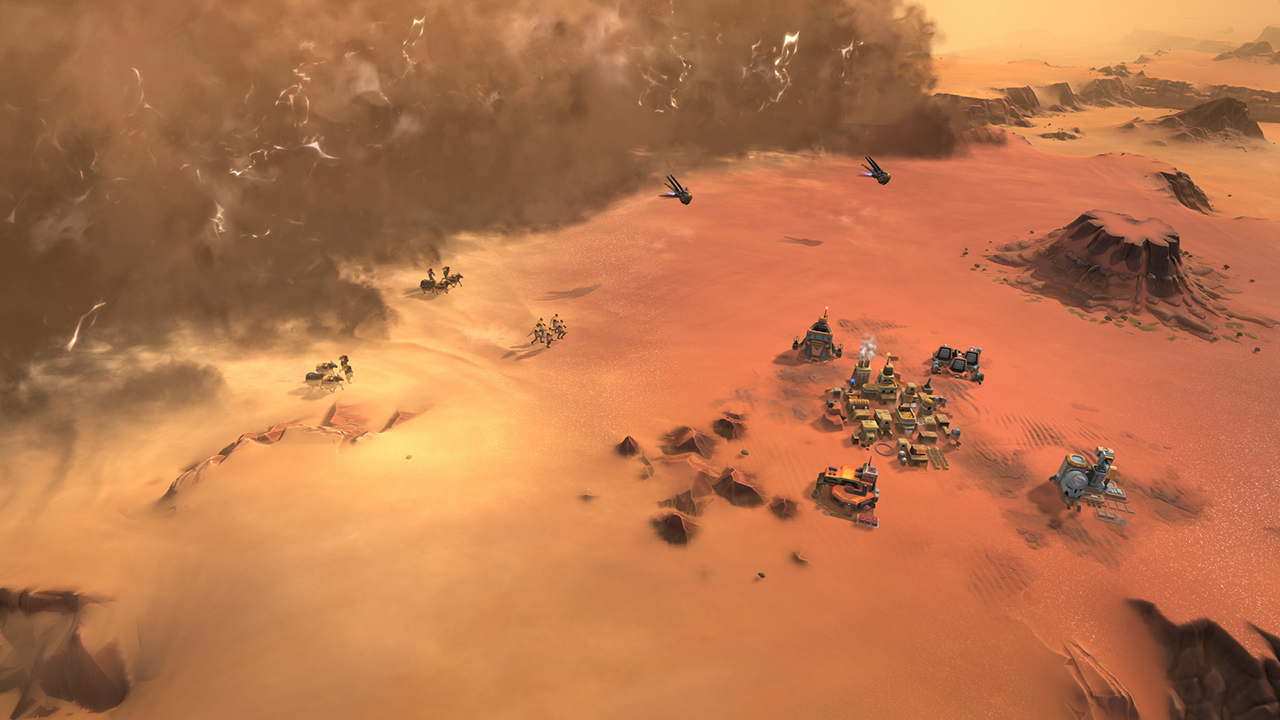 Platforms: PC
Developer: Shiro Games
Fans of strategy games and Frank Herbert's sci-fi universe should be happy, as Dune: Spice Wars (currently in early access too) has successfully brought an enchanting mix of real-time strategy and 4X to the sands of Arrakis.
As it stands, the game features five different and well-defined factions: House Atreides, House Harkonnen, House Corrino, the Fremen, and the Smugglers. While all of them share the common goal of controlling the flow of the spice, each group has a set of strengths and weaknesses, unique units, and surprising abilities.
Armed conflicts can rarely be avoided, but Spice Wars' heart is in its depiction of Arrakis' natural ruthlessness and the technology-driven efforts to tame and exploit the dangerous world. It's also the perfect way to make the wait for Dune: Part 2 somewhat bearable.
6. Starbound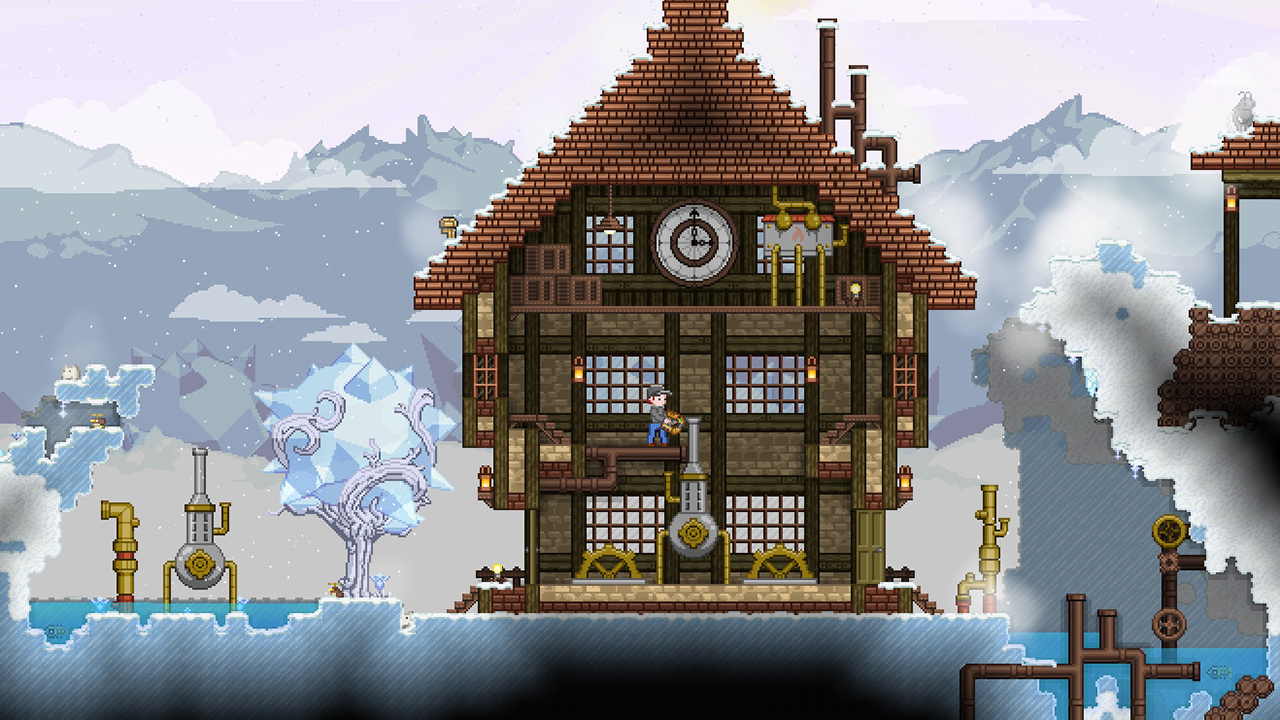 Platforms: PC, macOS, Linux, Xbox One
Developer: Chucklefish
Starbound garnered tons of attention during its early access years, but development hurdles and the surge in popularity of the similar adventure-crafting game Terraria cast a bit of a shadow over its full release. Regardless, it built up a healthy community with its unique twist on procedural 2D adventures.
Lost in space with a damaged ship, the only option is to beam down to the planet below to collect resources, build up a new home, and hopefully repair the ship. And that's just the first step, as a working ship means more off-world exploration. Starbound aimed for the stars with its ambitious take on the Minecraft-like formula, and the final result is delightful.
5. No Man's Sky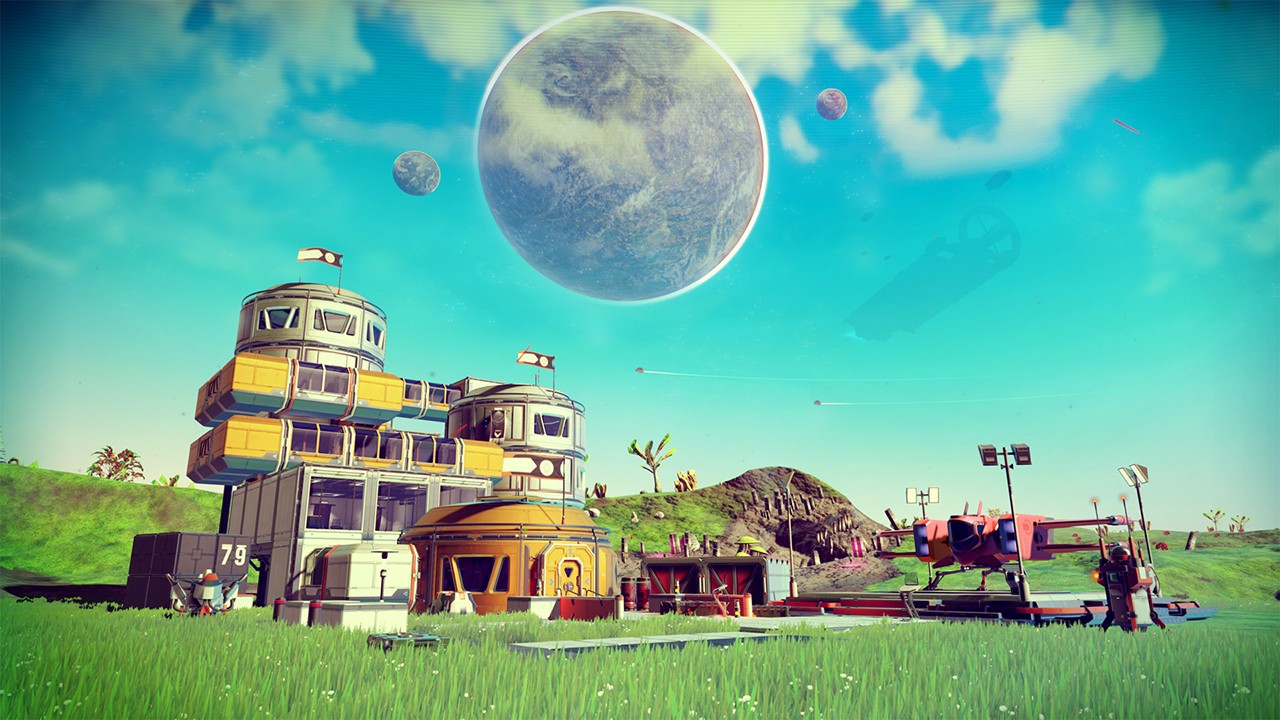 Platforms: PC, PS4/5, Xbox One/Series X/S, Nintendo Switch
Developer: Hello Games
After its rough launch back in 2016, No Man's Sky has grown into a beautiful and mind-bogglingly expansive sci-fi game. The first couple of hours might be rough, but your free time might be in danger if Hello Games' behemoth grabs your attention.
The game now supports cross-play and fully online co-op, so that's an added bonus. While it originally stuck to exploration and packed very basic combat and crafting mechanics, the current experience is heavy on settlement and base-building too. Moreover, its procedural universe, from the planets themselves to its inhabitants, is more alive than ever.
4. Surviving Mars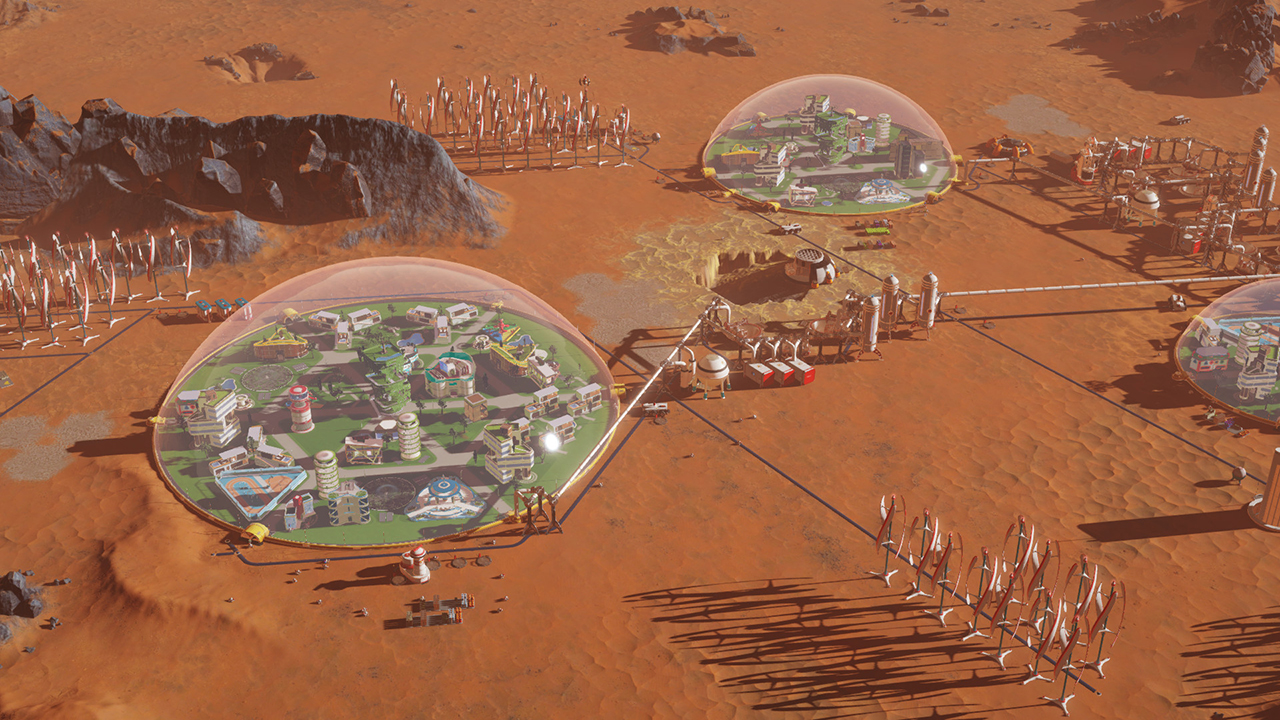 Platforms: PC, macOS, Linux, PS4, Xbox One
Developer: Haemimont Games, Abstraction
Surviving Mars is another great recommendation for players who are passionate about city builders and reasonably deep simulation. It's more peaceful than Aven Colony and not nearly as complex as Per Aspera (listed below) despite sharing with the latter the Mars setting and a focus on the science-y aspect of maintaining settlements.
Another big plus is the cheerful, cartoony art style and how the developers envisioned detailed Martian cities built under protective domes. Moreover, its extra pieces of downloadable content add more life and variety to the game at a reasonable price.
3. Per Aspera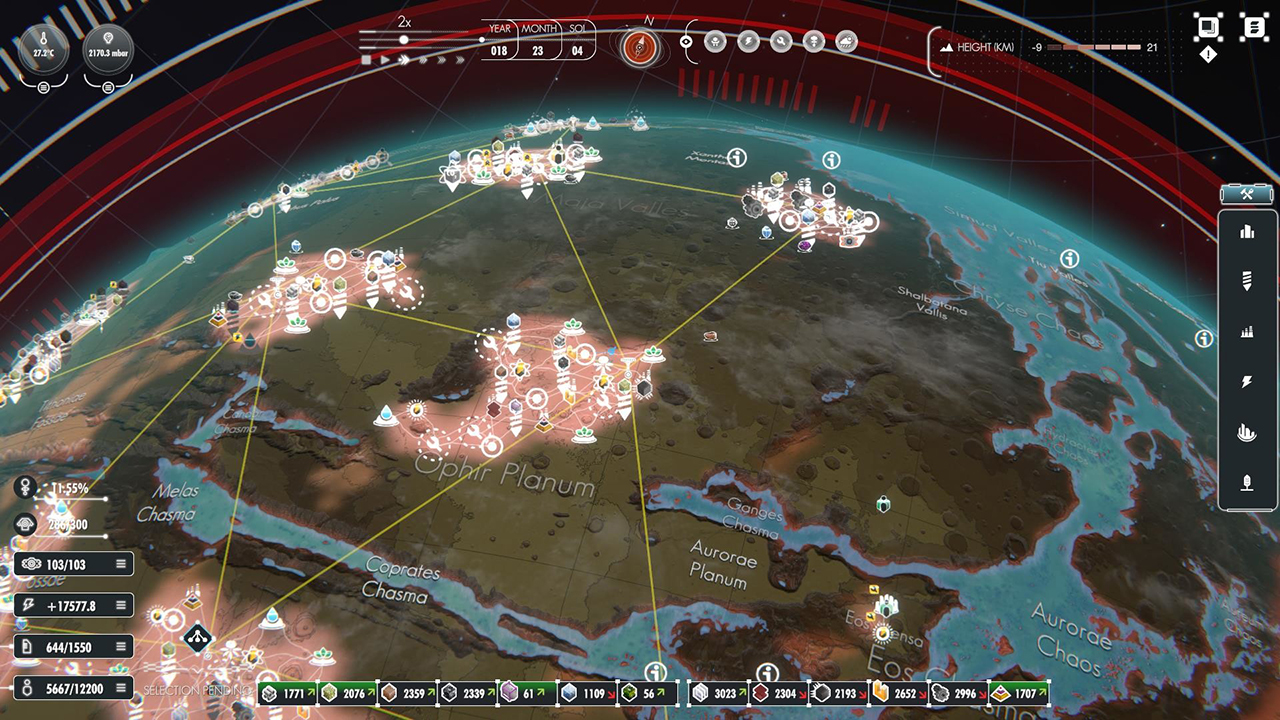 Platforms: PC
Developer: Tlön Industries
Per Aspera is a complex "planetary simulation game" which combines hard sci-fi and traditional base-building mechanics. You're not just in control of setting up a single settlement, but of actually expanding over the entirety of Mars, connecting different cities, and making sure both terraforming and all the technology gluing other systems together work and evolve accordingly.
The cherry on top is a pretty strong narration and the presence of an unexpected mystery which threatens the entire operation. Per Aspera may feel overwhelming at first, but it's oddly relaxing and has clear and unique goals in mind.
2. Endless Space 2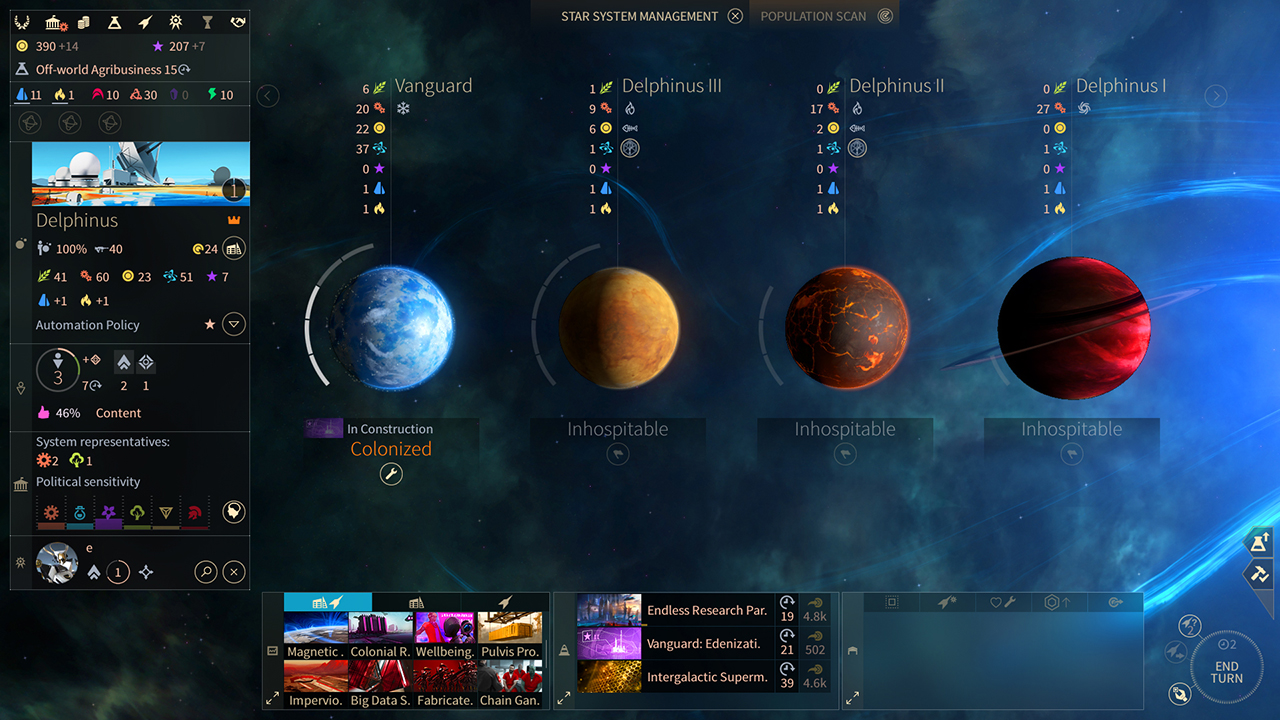 Platforms: PC, macOS
Developer: AMPLITUDE Studios
Endless Space 2 is, in our humble opinion, the best turn-based, sci-fi strategy title that you can find right now. It behaves like a normal 4X game, but the path to victory is never the same due to each species' peculiarities. Its universe is vast and rich, and reaching new systems and settling their planets never gets old.
Isolated empires are a viable option, and so is buying peace through a galaxy-wide web of markets. Its expansion packs make things even weirder with species like samurai descendants of birds (really) and immaterial space ghosts. Don't skip this one if you're into absolutely wild universe-building and endlessly replayable, hours-long matches.
1. RimWorld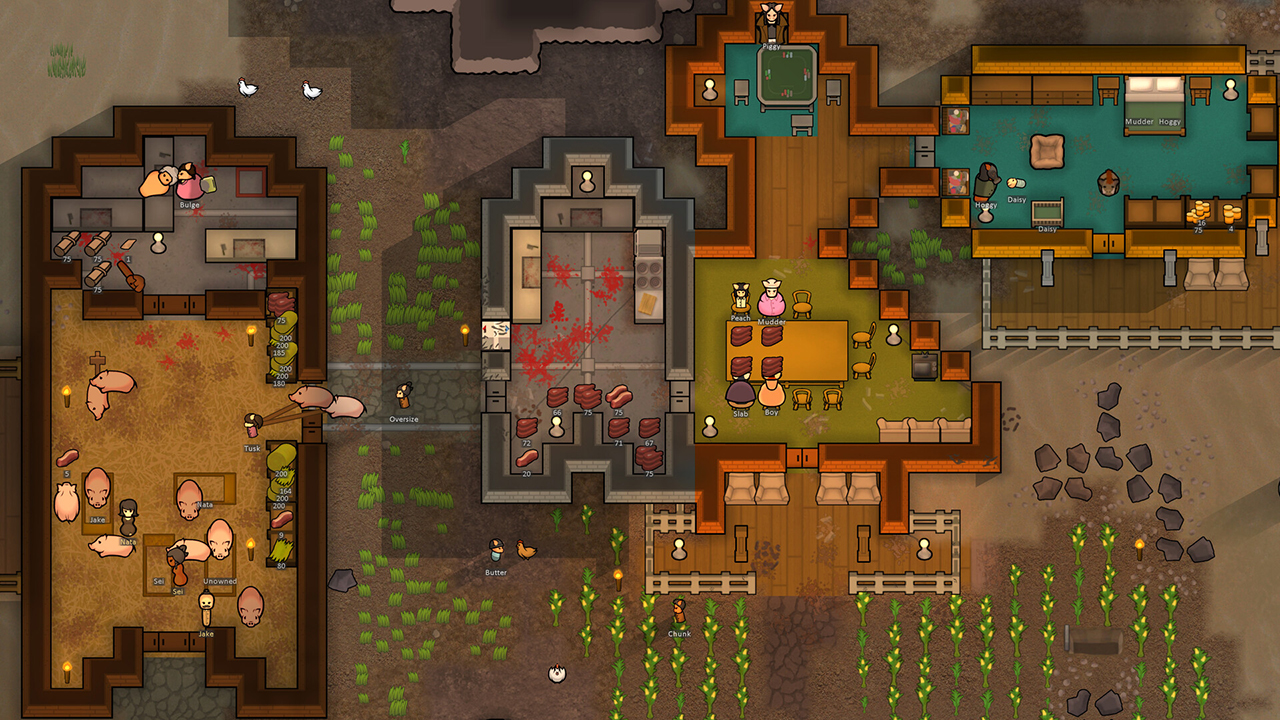 Platforms: PC, macOS, Linux, PS4, Xbox One
Developer: Ludeon Studios
RimWorld might be the biggest "sim sensation" in recent years. Despite its simple visuals, thousands of players have applauded the game's intricate simulation systems and seemingly endless creative possibilities. Thankfully, it's not hard to get into either.
Starting with a handful of settlers who survived a catastrophe in a distant world, the goal is to make an uncharted planet your new home. The surprise? An AI storyteller that determines the difficulty and overall pace, creating events and helping shape how games of RimWorld evolve. Between this "invisible hand" and the Dwarf Fortress-like sim systems, RimWorld is unlike anything we've seen.
Want more space gaming articles?
Check out our roundup of all the upcoming space games to keep an eye on this year and beyond. And if you mainly play on Xbox and PC, you'll want to learn about the best space games on Xbox Game Pass that are available now.
(News Source :Except for the headline, this story has not been edited by Times Of Nation staff and is published from a www.space.com feed.)
Read Also: Latest News | Current Affairs News | Today News | English News | World News Today

TimesofNation.com offer news and information like: English newspaper today | today English news | English news live | times India | today news in English in India | breaking news in India today | India TV news today & Hindustan News.

You can Read on TimesofNation.com latest news today, breaking news headlines, Top news. Discover national and international news on economy, politics, defence, sports, world news & other relatively current affair's news.
Plugin Install : Subscribe Push Notification need OneSignal plugin to be installed.