Astronaut Frank Rubio breaks US record on way to spending a year in space: Times Of Nation
Frank Rubio didn't set out to break a record, but today aboard the International Space Station (ISS), he will do just that.
Rubio, a NASA astronaut and member of the space station's 69th expedition crew, will become the American who has flown the longest space mission in U.S. history. At 1:39 p.m. EDT (1739 GMT) on Monday (Sept. 11), he will surpass the 355 days, 3 hours and 45 minutes logged by NASA astronaut Mark Vande Hei in 2022.
Further, since he is not scheduled to land until Sept. 27, Rubio will soon become the first American, and one of only six people, to spend a year in space, ultimately returning to Earth after 371 days in Earth orbit.
Related: The most extreme human spaceflight records
"It's an honor to be able to be considered one of the people that's going to have spent a year in space," said Rubio in a recent interview with ABC's Good Morning America. "And for sure this record will soon be broken again."
"I think this [duration] is really significant, in the sense that it teaches us that the human body can endure, it can adapt and — as we prepare to push back to the moon and then from there, onward onto hopefully Mars and further on into the solar system — I think it's really important that we learn just how the human body learns to adapt, and how we can optimize that process so that we can improve our performance as we explore further and further out from Earth," he said.
Rubio launched on this flight, his first, on Sept. 21, 2022. Riding aboard Russia's Soyuz MS-22 spacecraft, Rubio and his crewmates — Roscosmos cosmonauts Sergey Prokopyev and Dmitry Petelin — were then slated to return to Earth after about six months on the space station.
Then on Dec. 14, as Prokopyev and Petelin were preparing for a spacewalk, Russian flight controllers received telemetry showing that the exterior coolant system for the Soyuz MS-22 spacecraft was losing pressure. Cameras on the station confirmed that the Soyuz was leaking its ammonia coolant into space.
Deemed no longer safe to return a crew to Earth, a "rescue" Soyuz, MS-23, was launched on Feb. 23 and Prokopyev, Petelin and Rubio's stay on the station was extended another six months. Rather than serve on just the Expedition 67 and 68 crews, the three also became part of Expedition 69. (Their departure on Soyuz MS-23 will mark the beginning of Expedition 70).
"Frank thought when he flew to space, he would be here for six months. And partway through his mission, he found out that it was extended to a year," said NASA astronaut Warren "Woody" Hoburg, during an on-orbit press conference preceding his return to Earth after six months on Sept. 3. "His leadership up here has been incredible. He's been amazing to work with and Frank is just making a huge sacrifice being away from his family for so long."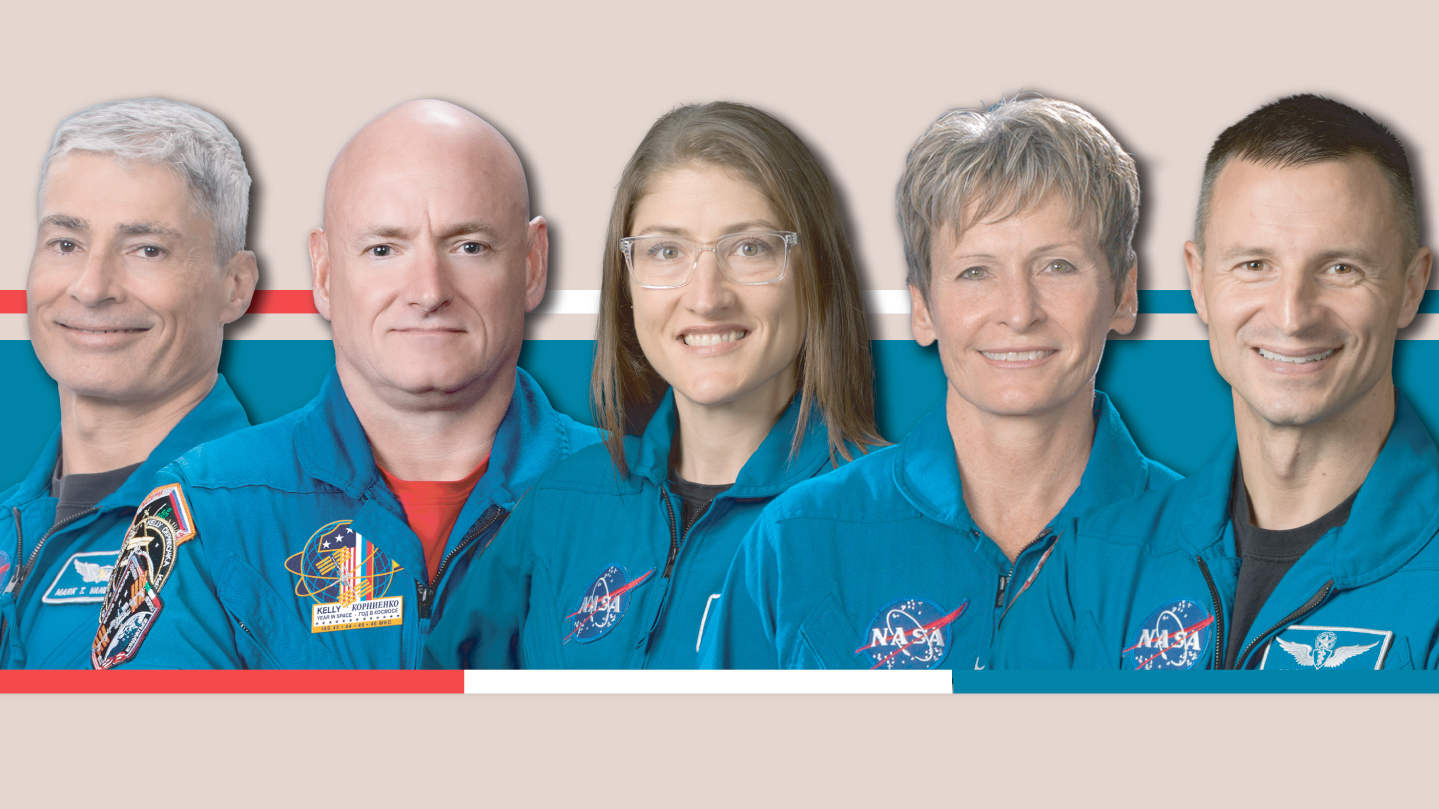 Like Rubio, Vande Hei also did not know he would be spending nearly a year in space when he launched to the space station. Rather than an incapacitated spacecraft, though, Vande Hei's extended stay was to accommodate a Russian movie crew's visit to the station and to protect against a crew rotation schedule that could leave the complex without an American on board.
Vande Hei's 355 days surpassed Scott Kelly's mission that spanned 2015 to 2016. Kelly's 340 days was planned from the start as a means of gathering physiological data about the effects of a longer duration spaceflight on the human body.
Rubio's Soyuz MS-23 crewmates, Prokopyev and Petelin, are the fifth and sixth Russians to spend a year in space and the first two to do so on the International Space Station. Soviet-era cosmonauts Musa Manarov, Vladimir Titov and Valery Polyakov each logged more than 365 days on the former space station Mir. (Polyakov, who died in 2022, still holds the record for the longest single space mission at 437 days.)
A former flight surgeon, Rubio said he expects his return home to be a challenge.
"After about six months in space, most people have a little bit of a hard time with their vestibular system and their equilibrium. So after 12 months that can be a challenge," he said. "It might take a couple of days before I'm somewhat normal, but the reality is it's going to take anywhere from two to six months of really intense rehab to get back to my normal, and that's just part of the process."
Follow collectSPACE.com on Facebook and on Twitter at @collectSPACE. Copyright 2023 collectSPACE.com. All rights reserved.
(News Source :Except for the headline, this story has not been edited by Times Of Nation staff and is published from a www.space.com feed.)
Read Also: Latest News | Current Affairs News | Today News | English News | World News Today

TimesofNation.com offer news and information like: English newspaper today | today English news | English news live | times India | today news in English in India | breaking news in India today | India TV news today & Hindustan News.

You can Read on TimesofNation.com latest news today, breaking news headlines, Top news. Discover national and international news on economy, politics, defence, sports, world news & other relatively current affair's news.
Plugin Install : Subscribe Push Notification need OneSignal plugin to be installed.